I know what you are thinking, not another Glossybox review however being my second box I thought I would give my thoughts. Following my review on my last box which you can read by clicking here, I had high hopes for this box. But, I can't help thinking that perhaps this idea isn't for me, or that Glossybox isn't the brand for me. I thought maybe last months was a one off but I can't help but feeling let down again although I am determined to stick it out until the Christmas box...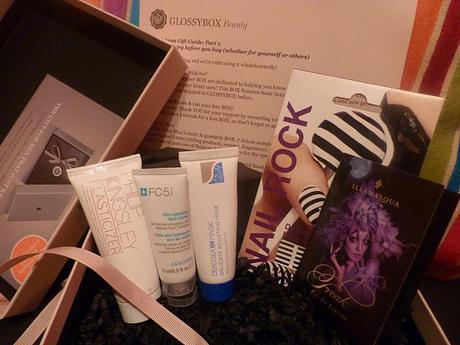 What's included...
Arbonne Ultra Hydrating Hand Creme (Full Size £19)
I am not entirely sure who in their right mind would spend the best part of £20 on a hand cream and personally I am not a big user of hand cream, however this may be an incentive to start...
Dead Sea Spa Majik (Full Size £8.80)
Again I have seen this brand around and personally I do not see this as 'high end' considering it can be purchased in my local drugstore. 
Illamasqua Freak Eau De Parfum (Full Size £59)
This scent is actually really nice and liked the fact it is a spray bottle however I think that to class this as one of 5 high end products is a bit of a get out, I along with a few others am not keen on seeing perfume samples. 
Nail Rock Designer Nails
I actually saw these in Topshop the other day and since trying the charity Children in Need ones (click here) I have been tempted to get some more. These retail at £6.65 but again I don't think these are high end. And that was the whole point of GlossyBox... 
Philip Kingsley Elasticizer (Full Size £52.10)
Now, this I am quite excited about, I love trying hair products and anything that promises to improve the condition of my hair gets a thumbs up but in reality I would never pay this kind of money for it. 
Again, I am not overly excited about this box. I would like to see them branch more into makeup samples however I will try all these products none the less. 
Without sounding like a complete, stuck up ungrateful brat...I personally think after the Christmas box I will move onto another beauty box as they seem to give far more variety for your money. 
What were your thoughts on GlossyBox this month?