This weeks see's some big fixtures across the leagues as team do battle as we edge towards the business end of the season. In the Premier League, I can't see Manchester United throwing away their lead now, even after Ferguson's rant at last weeks defeat to Chelsea. Even if The RED DEVILS go on to lose at Liverpool this weekend, for me the title is still theirs and I think Ferguson's tactician-al mind will see him crawl his way back to another Championship title. Coming Monday, I will be looking at the Champions League ties and whats in store for Arsenal, United, Chelsea and Tottenham.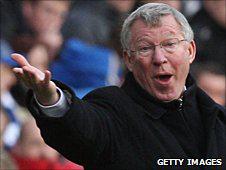 Looking at the lower leagues, in the Championship the matches of the weekend come from Loftus Road and The Cardiff City Stadium. I myself will be in attendance at Loftus Road with my old man (Leicester fan at heart being from there) and I think they will come away with a draw. Although I have QPR to be dead certs to gain promotion, I believe Leicester have improved immensely under Sven. He's brought in some good players, Yakubu and Sol Bamba but to name a few, and I have faith that Sven will deliver and get the results needed to propel them into the play-offs by the end of this season. Now looking onto the game at Cardiff, I have to say I have been particularly impressed by them of late, another team who should be right up there come the business end of things. However, have you seen Ipswich in recent weeks! Under Jewell they seem to be going in the right direction, now that Keane has exited through the door. Having added Bullard to their squad and having Conor Wickham show the freedom that a teenager should at that age, everything seems to be clicking into place, this has been proven by their impressive performances winning 6-0 away at Doncaster just a few weeks ago with young Conor bagging a hattrick. Previous Guest writer and Ips fan Harrison Page has now got his own blog going, and I am sure he will keep you upto date with all the goings on at Portman Road (http://canweplayyoueveryweek.blogspot.com/). Although all of these positives. I can't look past a Cardiff win here! 
League One, what to say really. My team Charlton seem to be on the decline and will be anxious to address their poor run of form whilst they entertain Tranmere. The games at Colchester and Sheffield Wednesday will be the stand out fixtures from the list and would not be one to predict the outcomes of those games. Furthermore, the ever erratic side, Peterborough, host Exeter City at home, you can bet there will be goals, but for which team, who knows? 
In League 2, I have to give credit where credits due, and that's to Chesterfield, running away with the league, they will be surely be playing league 1 football next season, barring that something outrageous does not happen. A notable mention goes to Lincoln City, after being rolled over by the League Leaders, will they be able to bounce back against an Accrington side who lay one place above them in the league. Looking at Gillingham in 7th place, and just inside the play-off, I expected them to be where Chesterfield are but it just has not materialised for them. Having tipped them at the beginning of the season to run away with the league I just wonder if they will even make the play-offs. They have sold prized assets such as Simeon Jackson to Norwich and whether that's going to cost them a competing place in the play-offs, we will soon find out! 
Thats it for now, have a good weekend and I'll be back soon with an article from a guest speaker and The Champions League PREVIEW...