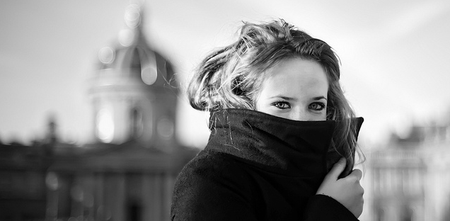 Standing in front of our outer gate this evening were two shivering girls I didn't know. It's been really cold in Paris, below freezing. They looked relieved to see me.
I opened the gate for them and one of them assured me in a delightful Spanish accent, "I live here, but I can't get in. I don't know what is wrong."  I'd heard about these neighbors, a family from Madrid who is in Paris only occasionally.
"The code has changed," I said. I gave the girl the new code and she tapped it into her iPhone to be sure to remember it. 
"They should change it in the summer!" she said. I couldn't agree with her more. Like an idiot I had to stand outside in the cold myself this morning, flicking through my phone's contacts list trying to remember how I had listed the new code, which we had been informed would change this morning because of a recent burglary in the building. But of course I had forgotten, and was standing there stamping my feet and desperately pushing all the combinations I could think of... I think it ends in A? After what felt like a very long time, the concierge came out, saw me and opened the door, but it took me half an hour to warm up afterwards.
I've written about the code before, so suffice it to say that if you don't have the code or your cell phone, you are not getting into most residential buildings in Paris! Always remember to ask if you are going to someone's place.