Hey Eric & Sookie Lovers!

We have some exciting and hilarious news to share with you…okay, maybe not hilarious yet…but what is entered will be sure to be funny!

What's that, you're wondering? We're pleased to tell you about a special online fiction contest called, the…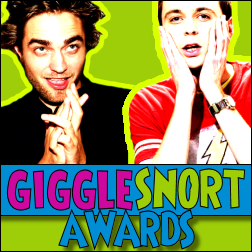 This is the 2nd year the
Giggle/Snort Awards
has been around – and
this
year – it's opened it's doors up to those in
every
fandom – including the
SVM/True Blood
fandom!

As the first (and as far as we know, only) awards to exclusively honour work within the 'humour' category, they make it their mission to ensure your funny bones are well and truly tickled.
Nominations are being accepted starting…NOW and they are open until June 10th! You can click here to submit your entries and to find out more info about this contest!
You may also follow them on Twitter @giggle_snort to keep up on all the latest news and information about this contest!
So, are you tickled pink to find out SVM/True Blood fictions are able to be accepted? Are you in dire need to satisfy your funny bone? Start writing funny stories to share with other fandoms!

Good luck to all who enter!
PS. We hope to see many hilarious Eric & Sookie stories on there!