Send to Kindle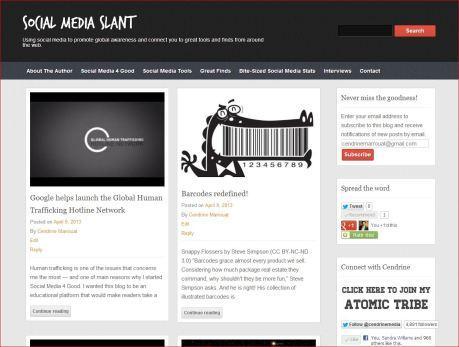 If you follow me on Facebook, Twitter, or Google+, you may have noticed that I have been posting content from several different blogs.
After launching Social Media 4 Good last year, I quickly realized that I wanted to do even more with social media. So, I decided to run a few tests to see if the ideas I had would work.
I created two blogs. "Plenty of Awesomeness" was all about amazing pictures, photos, and stats gleaned during my research. And "Tool-terrific" focused on great social media tools.
Several weeks and 7,000+ visitors later, I am very excited to announce the birth of Social Media Slant.
Social Media Slant merges the three blogs into a unique concept: Using social media to promote global awareness and connect readers to tools and great finds from around the web.
The site has five categories:
Social Media 4 Good

Social Media Tools
Great Finds
Bite-Sized Social Media Stats
Interviews
My goal is to bring you content that is educational, but also fun and useful. The articles will be short so that they only take a few minutes to read — with exceptions (like interviews) when warranted.
To check out Social Media Slant, visit www.socialmediaslant.com.