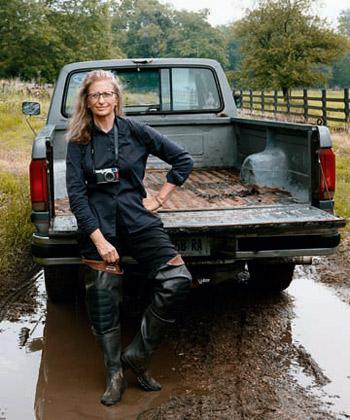 Annie Leibovitz, Plano, Illinois, 2011. © Annie Leibovitz, 2011
On Tuesday, January 24, a couple of hours before the president delivered his address to Congress, Annie Leibovitz presented her own state of the union to a sold-out audience at American Art's McEvoy Auditorium. Hers was a photographic pilgrimage--a meditation on the poetry of place--that took her across the country as well as overseas. Leibovitz, who spent her high school years in D.C., says that the first place on her "to visit" list was the Washington Monument. The rest as they say, is American history. Lincoln led her to Marian Anderson to Daniel Chester French, who designed the 16th president's memorial. Also on the journey, Georgia O'Keeffe, whose beautiful box of handmade pastels can still take your breath away, as well as Val Kill, the Hudson Valley home of Eleanor Roosevelt, and The Evergreens, the Amherst, Massachusetts home of Emily Dickinson's brother, Austin.
Leibovitz, who followed her introductory comments with a slideshow, presented images that included Emily Dickinson's fragile white dress, Elvis Presley's motorcycle and bullet-shot television (apparently he wasn't a fan of Robert Goulet; sorry Bob), Niagara Falls (an image so beautiful you feel you may go over at any minute), as well as Henry David Thoreau's wicker bed, Ansel Adams' darkroom, and a page from a journal belonging to Bronson Alcott, who poignantly traced his daughter Louisa May's hand in his right on the page. It, too, is one of those quiet moments that stuns you with its beauty, and may lead you to contemplate a list of your own: where would I stop on my own pilgrimage?
And so as not to disappoint fans of her commercial work for Vogue and Vanity Fair, Leibovitz drew the evening to a close with images of Joan Didion, artists John Currin and Rachel Feinstein, and a handful of Lady Gaga mostly dressed to the nines, except for one, where she's not very dressed at all. She's posed with crooner Tony Bennett and his expression is priceless as he deals with more Gaga than he probably expected.
With time for questions at the end, Leibovitz answered one from a woman in the audience, who, like Leibovitz, is a mother of three. She wanted to know how the woman on stage balanced work and home, to which Leibovitz gave her thoughtful reply, "You don't have to go out to take pictures...I always thought that you could do the seven wonders of the world in your room with a camera..stay close to home and photograph the people close to you."
The evening was a great opportunity to get to know a photographer whose work we've all admired for decades. And where else can you go from Emily Dickinson to Lady Gaga in sixty minutes flat?
Watch the webcast. Annie Leibovitz: Pilgrimage runs through May 20, 2012.