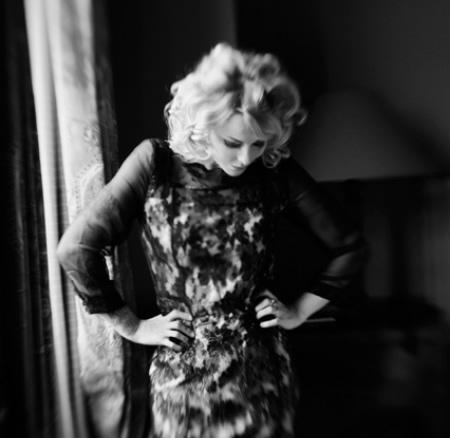 photo: Mark Uyl
Anneke van Giersbergen has dropped the "Agua de Annique" bit and releases her new album under her own name. A seasoned veteran in the Dutch music scene she has returned the big sound that sounds familiar for fans of The Gathering, the Gothic metal band that she fronted for 13 years before going solo in 2007.
Trying her hand singing pop on her previous album In You Room was a change of pace that didn't quite fitted her. Using broad musical strokes for orchestral rock is her forte: a crystal clear voice riding on top of the wave. The album's anthemic closing tack 1000 Miles Away From You and the power ballad Stay, slowly building up to a heavy rock crescendo, are fine examples of old school Van Giersbergen. I Wake Up on the other hand sees her broadening her horizon, using Pet Shop Boys inspired percussion overpowering the wavering keyboards. Take Me Home she sings with renewed confidence. Collaborating and recording with Portuguese musician Daniel Cardoso has given her sound an edge that was missing in recent years.

Everything Is Changing is released on PIAS Recordings - Agua Recordings.
Tracks:
Feel Alive
You Want To Be Free
Everything Is Changing
Take Me Home
I Wake Up
Circles
My Boy
Stay
Hope, Pray, Dance, Play
Slow Me Down
Too Late
1000 Miles Away From You
Live dates:
02/18 't Beest, Goes, The Netherlands
02/25 Podium Romein, Leeuwarden, The Netherlands
03/01 Effenaar, Eindhoven, The Netherlands
03/03 Kroepoekfabriek, Vlaardingen, The Netherlands
03/09 LVC, Leiden, The Netherlands
03/10 Fenix, Sittard, The Netherlands
03/16 Atak, Enschede, The Netherlands
03/17 Perron 55, Venlo, The Netherlands
03/22 P60, Amstelveen, The Netherlands
04/21 *Mixtape 5* Club, Sofia, Bulgaria
04/22 The Silver Church, Bucharest, Romania
05/08 Café Hahn, Koblenz, Germany
05/11 Music Hall, Worpswede, Germany #
05/12 Knust, Hamburg, Germany #
05/13 Bergkeller, Reichenbach, Germany #
05/14 Hirsch, Nürnberg, Germany #
05/15 Spectrum, Augsburg, Germany #
05/16 Colos-Saal, Aschaffenburg, Germany #
05/17 Zentrum Altenberg, Oberhausen, Germany #
05/18 La Laiterie, Strasbourg, France #
05/19 Galery, Pratteln, Switzerland #
05/20 La Machine du Moulin Rouge, Paris, France #
05/21 L'Ubu, Rennes, France #
05/22 Le Bikini, Toulouse, France #
05/23 Caracol, Madrid, Spain #
05/24 Razz 2, Barcelona, Spain #
05/25 Secret Place, Montpellier, France #
05/26 Bloom, Milano, Italy #
05/28 Szene, Wien, Austria #
05/29 Randal Club, Bratislava, Slovak Republic #
05/30 Club 202, Budapest, Hungary #
06/01 Pod Minoga, Poznan, Poland
# Special Guests: Frames & Kill Ferelli
Video: Anneke van Giersbergen - Take Me Home