Anna Paquin is featured in the July issue of V Magazine!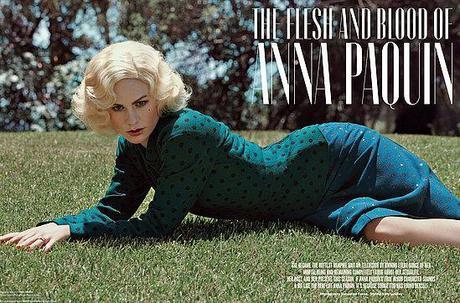 In it, she talks candidly about awkward love scenes, her theater background, and what she thinks when fans throw themselves at her husband and costar, Stephen.
Here's more:

Anna on theater: "On stage you don't have anything to hide behind. I have never felt so naked."
Anna on Sookie: "Sookie is always in distress; it wouldn't be True Blood if someone wasn't trying to kill her."
Anna on sleeping with her husband on set: "Maybe it should be weird, simulating sex with your husband in front of people. But it's really not. When it's a love scene with someone you actually love, it's no 'can I touch him here, can I touch him there?' You know what your boundaries are, or aren't, I suppose."
Anna on Stephen's fans: "There is probably something wrong with me, but I find it amusing to watch these men and women fawn all over him. It's not like anyone is really trying to do anything inappropriate. They just want him to hug them . . . or bite them."
This issue hits newstands on July 7th!
Sources: V Magazine and popsugar.com
Here are some photos from the issue!
Please click image for larger view.