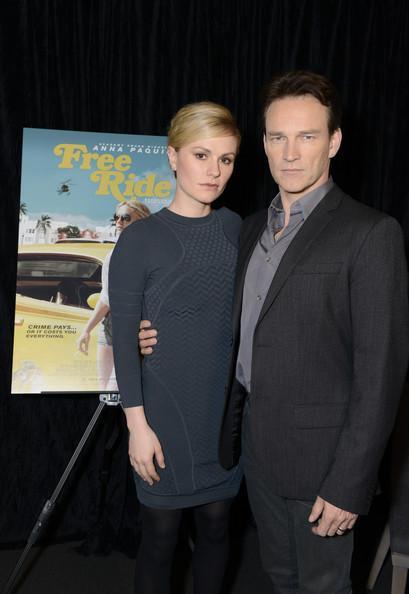 Anna Paquin and Stephen Moyer have been talking to Elle.com about Anna's new movie "Free Ride" and other stuff, including of course, True Blood.
You start shooting 'True Blood' again this month—and it's  the final season. What do you hope happens for Sookie? AP: Honestly? There's so many directions it could go in, and  one of the things I love about our show is that I still get excited reading the  scripts. There's a part of me that doesn't want to do the, 'Oh, I hope this  happens,' or 'What if this happens?' because they're pretty damn good. SM: Three or four seasons into the show, we might have been  able to tell you what we thought would be the end, or what we hoped would be the  end. But by the time you get to season seven, I don't know if anybody other than  the guys creating it know what the best ending is. And so ultimately you have to  sort of trust them to wind it up in a way that hopefully satisfies everybody a  little bit. Because you're not ever going to be able to make everybody happy.  And the huge Eric fans… AP: …or the huge Alcide fans… SM: …or the huge Bill fans… Or the huge Bill-and-Eric fans… SM: Or the huge Bill-and-Eric fans … AP: Beric? SM: Beric fans! They'll hopefully be able to tick off a lot  of boxes, but you're not going to be able to make that perfect ending. One way to maybe satisfy everyone at once is to make Sookie's  fantasy of a Bill-Eric threesome come true. AP: Yeah, that was an interesting day of production. And not  just because I ended up half-naked on a couch with two different men. But just  because that's an awfully long time to spend walking around… SM: …in red lingerie. Particularly attractive red  lingerie! AP: This is the point where he would say something that you  don't need to know about! SM: Because he can't help himself.
You can read the entre interview
here
 and there is also a clip from "Free Ride". .