Hey Eric & Sookie Lovers!
Anna Paquin recently sat down with the New York Times for an interview, which also revealed a new screen cap from True Blood! Check it out below!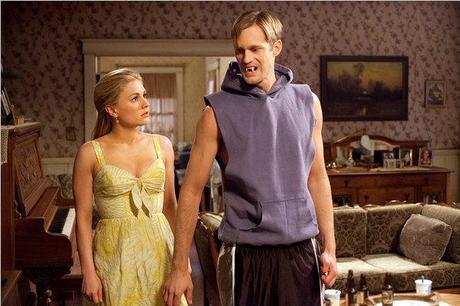 Image source: New York Times Slideshow
Here are some excerpts…
On a recent Friday, on a soundstage representing a New Age shop in Shreveport, La., another sign warned "Live panthers on set," but those terrifying predators were nowhere to be seen. Instead, Sookie Stackhouse, the mind-reading, vampire-attracting waitress portrayed by Anna Paquin, and her friends Tara (Rutina Wesley) and Lafayette (Nelsan Ellis) were cowering in fear of a sinister Wiccan, played by Fiona Shaw, who appeared to be carrying on a conversation with herself — or maybe with someone else inside her.

When Ms. Paquin visited behind the cameras during a shooting break and sprawled herself across a director's chair, she playfully declined to explain what exactly had transpired in this scene from the next-to-last episode of the coming "True Blood" season.

"Would you want to know what you're getting for Christmas on Christmas Eve?" she asked. "There's something about anticipation that makes it more exciting."
We would love to know what happens in the scene that's mentioned. 

But yes…we don't want to spoil it for those who may want to be surprised.

This is what this interview says about Eric & Sookie.
The new season of "True Blood" will further explore the budding relationship between Sookie and Eric, as Ms. Harris's novels have already chronicled, though cast members were wary to say just how far that exploration would go.

Mr. Skarsgard said in an e-mail that there was "definitely more" to Eric's attraction to Sookie than his taste for her blood, "but I don't think Eric knows what it is." He added: "Eric exists in constant darkness, and the only way he can feel the sunlight on his skin is with Sookie's blood in his veins. How is that for a metaphor?"
This part reminds me of the books – when Eric mentions how he can smell the sunlight on her skin from Sookie sunbathing. ♥ ♥
Those are the most interesting parts for Eric & Sookie Lovers…if you would like to read the article in it's entirety click here.
Source: New York Times