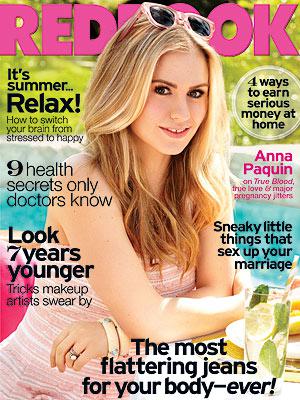 Anna Paquin will be featured in Redbook magazine in the August 2012 issue, which will hit newstands on July 10th.
Here are some snippets from the article;
On embracing motherhood:

"I have a side that's very nesty, and another that thinks, 'Let's lock up the house and go away for five months.'"

On how she landed the role of Sookie on True Blood:

"I'm a big believer in 'fake it to make it.' I went out and bought some incredibly short shorts and a push-up bra that I knew were going to be a part of my new life. It's not that I'm a prude, but I'm not a massive exhibitionist, either."

On her image:

"I'm my harshest critic…but at a certain point, you need to embrace who you are and the whole package that comes along with it. For me, it was cutting myself some slack and not trying to be something that I think is perfect or ideal."

On steamy scenes with Alexander Skarsgard on True Blood:

"We feel completely comfortable together. Steve [Moyer] and Alex are buddies. Its nothing like, 'Oh, hi, nice to meet you. Now let's take off our clothes and go into the fog.' Everyone is very respectful of each other's boundaries…They're all very gentlemanly about it."
Source: redbookmag.com
It's interesting that she describes her love scenes with Alex as "comfortable", when they come across as HOT.  How do they do that?
Are you going to go out and buy this? What do you think about what she said?
Share your thoughts below!