According to cfnews13.com…Anna Paquin is reportedly going to be shooting a new film called, "Free Ride", and will be shooting on closed sets later this month in Sarasota.
It stars Anna Paquin and Drea de Matteo. It's based on the real-life story of writer/director Shana Sosin who left an abusive relationship and turned to selling marijuana to support her two daughters.
Paquin won the Academy Award in 1994 for Best Supporting Actress for "The Piano." In 2009, she won a Golden Globe for playing Sookie Stackhouse on the HBO television drama "True Blood." De Matteo, won an Emmy Award in 2004 for playing Adriana La Cerva on "The Sopranos".
Here's a photo of the two actresses below!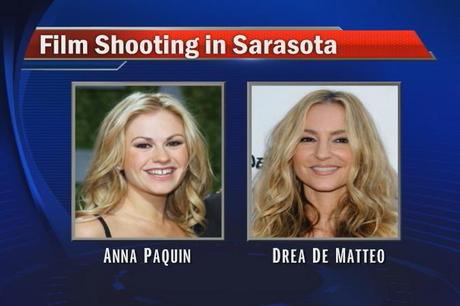 Image Credit: cfnews13.com
Wow…is it just me, or do you see it too? They could pass for sisters or something! They both have brown eyes and blonde hair!

They look very much alike in these two photos, that I just had to share it with you!
What do you think? Share your thoughts below!