I love when established brands come out with their own line of wedding loveliness.  Why? Because sometimes what is offered at the boutique shops is lame.  You may think I am being overly harsh.  But, I do recall going bridesmaid dress shopping with my bestie Kris and loser ex-sister-in-law who shall remain nameless because she is worth no one's time, and the choices were hideous and overpriced.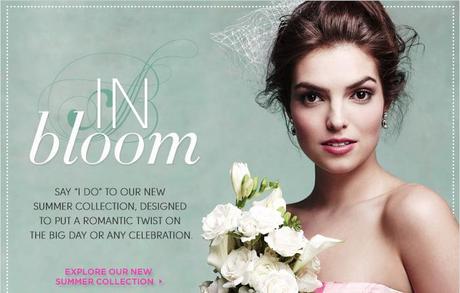 Can't a girl wish for something gorgeous and affordable at the same time?  Let me let you in on the schtick I believe that usually occurs at these bridal boutiques.  They charge an arm and a leg, the overmeasure you (don't deny it has happened. to. you.) and then they have you come back several times and pay almost as much as the dress originally cost you to alter it in a way that it would have looked on you had the damn salesperson ordered the appropriate size.  I said it.
I just think when you ask someone to be in your wedding and stand up to support you that you owe them some sort of unspoken commitment that you will keep the costs they are responsible for, in an acceptable ballpark.  Some girls are in multiple weddings each year, and sorry to tell you, they don't completely overly excited when they have to spend the following:
$300 on a so-so bridesmaid dress that will never be worn again, admit it.  It will not be worn again.
$100 for fittings to make the bridesmaid dress fit properly
$40 on a shower gift
$30 on a bachelorette gift
Anywhere from $30-$120 on some sort of lame bachelorette party requirement like a pedal-pub, a party bus, etc.
$30 conservatively on shoes to match the weird colored bridesmaid dress.  Bonus if you already have shoes and accessories to go with the dress
$60-$150 on wedding day hair and mani pedis.
$50 on a wedding gift
$200 or a PTO day because more than likely, you will have to take the equivalent of at least one day off of work for wedding-related festivities
$250 for a hotel stay the night of the weekend and at the low end $40 for a cab ride home
The list could go on and on, depending on the bridezilla-ness of the bride-to-be
That's $1150 for my list alone.  And compared to what most bridesmaids probably go through, this may be a conservative estimate.  Which is a lot!  I like to think I was a sort of low maintenance bride.  In the end, I didn't think it was necessary for everyone to wear the same shoes and accessories with their bridesmaids dress.  I did not require them to all get manis and pedis or get their hair done at a professional salon.  At the end of the day, everyone looked fabulous and I wouldn't have had it any other way.
That being said, now that I am married of course, there are all of these retail brands that have rolled out bridesmaid and wedding dresses!  I love it because it truly provides a good product for an attainable price.  I do honestly believe that the dresses at Ann Taylor or the Limited really could be worn again.  ALso, with the affordable prices, you could definitely afford to buy two wedding dresses, one for the ceremony and a cute shorter dress for the reception.  Plus, with the amazing trace records most retailer's have in design and fashion, they definitely have the money and designer input to create amazing bridesmaid dresses that actually fit off the rack.  So there you are, have your bridesmaids look for dresses at places like The Limited, Ann Taylor, or J. Crew and they probably can wear them again, and they have a better chance of fitting the first time, with no tailor bill.
Remember your bridesmaid pocketbooks.  Think of how you would feel having to purchase all these items.  They obviously adore you, but be extra sensitive about their expenditures.