Hey beautifuls, its the dry season and I am trying out different kind of body moisturizers to keep my dry skin nourished. Today I will be talking about Anherb Mandarin Orange Body Lotion.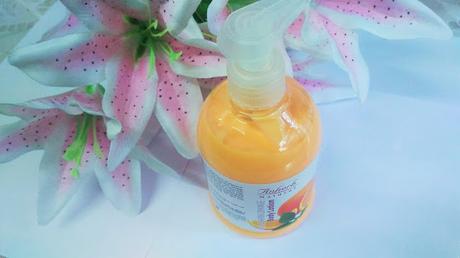 About Anherb Mandarin Orange Body Lotion:
A good source of Vitamin A due to carotenoids makes Mandarin Orange good for dull and damaged skin. A citrus fruit like this inherits the presence of a very high concentration of Vitamin C which makes it good in fighting free radicals thereby improving skin glow and helping in making the skin look younger, brighter, soft and fresh.
Price: Rs.275 for 300 ml Available here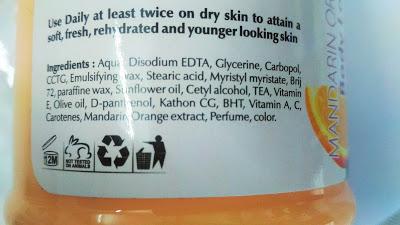 Packaging: Anherb Mandarin Orange Body Lotion comes in a transparent bottle with a transparent cover that has a pump.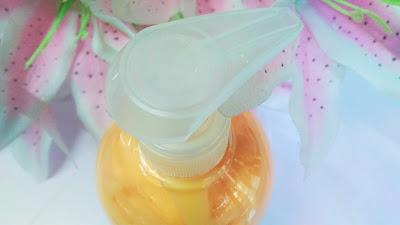 Product: The lotion is peachy orange in color with a bit thick and creamy consistency. It smells like orange squash.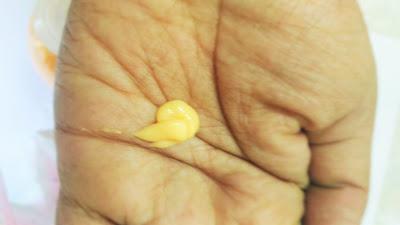 My experience: Winter is the time when we crave for oranges, and when we get to smell like orange throughout the day, what can be better than that. I love the packaging of the Anherb Mandarin Orange Body Lotion, but I cannot deny it is bulky. A tube packaging would have made it more travel friendly. The pump option again is good. I like the thick texture of the lotion. It does not feel greasy on the skin and gets absorbed quickly. The skin feels much smoother and softer. Any dryness is healed immediately. As per the instruction it is clearly mentioned that it should be applied at least twice a day to keep dry skin at bay.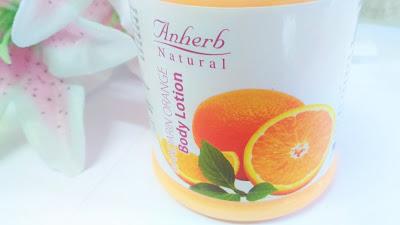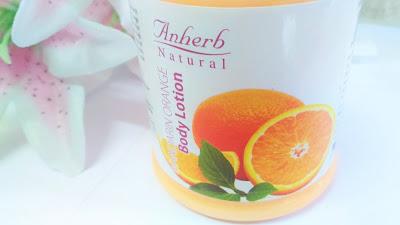 I felt the Anherb Mandarin Orange Body Lotion is meant for normal skin. It heals dryness but cannot prevent it for long time. However, I noticed that it is not mentioned anywhere that it is for dry skin and rather it is to fight free radical damage of skin and impart glow. The high content of Vitamin C actually gives a nice glow to the skin. It keeps the skin free of dryness for almost 4-5 hours and then I personally need reapplication(I have super dry body skin). So, I guess this works pretty good, considering the fact it is not meant for nourishing dry skin. What I am liking about Anherb products is they do not claim a mouthful and instead has a particular point approach. 
Pros:1.Smells wonderful2.Creamy texture3.Gets absorbed into skin quickly4.Does not feel greasy5.Softens skin6.Nourishes skin well7.Imparts a healthy glow8.Keeps skin hydrated for 4-5 hours for dry skin
Cons:1.Bulky packaging, not travel friendly
Rating: 4.5/5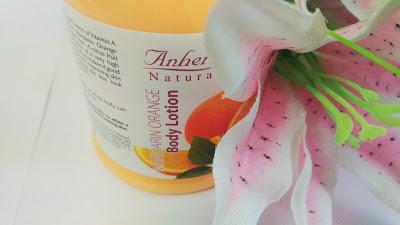 Anherb Mandarin Orange Body Lotion is a very good body care product that hydrates skin well and gives it a healthy glow with the goodness of Vitamin C. It is a strong recommendation from me for those who are suffering from skin damage and dullness.