On Thursday, May 30, 2013, an angel stood watch over

the funeral of police officer Jason Ellis, 33,

at High View Cemetery in Chaplin, Kentucky.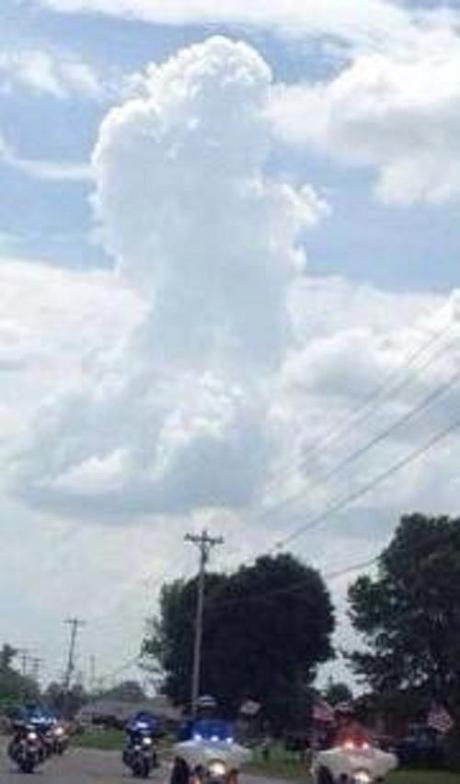 The above pic was taken by a friend of WAVE TV weatherman Kevin Harned, posted to Harned's Facebook page.
Ellis was a K-9 officer of the Bardstown Police (Bardstown is about 19 miles southwest of Chaplin). He had been shot and killed five days earlier in an ambush on an interstate highway ramp.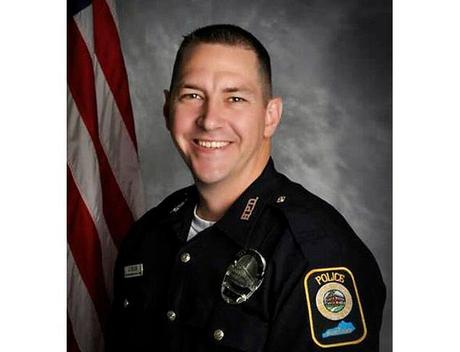 Michael Walsh reports for the New York Daily News, June 3, 2013, that among the mourners paying their last respects at Officer Ellis' funeral was his partner, Figo.
Figo, a police dog, bowed his muzzle and reached his paw out to touch his partner's casket.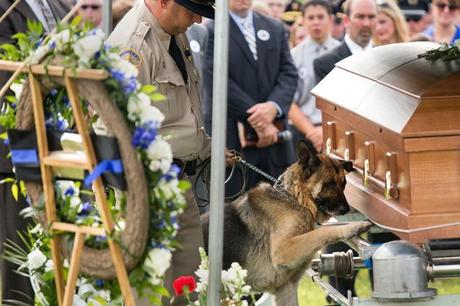 Man's best friend and a brother in blue — two unbreakable bonds, even after death. Photo by Jonathan Palmer/Herald-Leader
Bardstown Police Chief Rick McCubbin told the Daily News that Ellis and Figo together had made a dent in the local community's drug problem over the last few years: "Figo was almost giving him that final hug goodbye. I think that picture brought more tears than anything. Ellis knew that Figo was a great partner. When you are a canine cop you have one of the best partners in the world. He had the dog for several years and his boys basically grew up with Figo around."
McCubbin retired Figo from service a day after the funeral so the dog could live with Ellis' family, providing the young boys a connection with their father.
In the days after his death, officers transformed a cop car parked in front of their station into a memorial. Other well-wishers held candlelight vigils, organized a fund for Ellis' family and established a scholarship for students wishing to pursue law enforcement.
"If this world had a lot more Jason Ellis out there, we wouldn't have these kinds of tragedies," said childhood friend Jason Meenach. "I can only hope they find the person who did this and justice is brought."
Anyone with information concerning Ellis' death is asked to contact the Bardstown Police Department 502-348-6811, Kentucky State Police 800-222-5555 or Nelson County Dispatch 502-348-3211. As of June 3, the award for information leading to the arrest and conviction of those responsible for his death is $125,000.
The Fraternal Order of Police Lodge #43 and Ellis' family established the Officer Jason Ellis Memorial Fund and Officer Jason Ellis Reward Fund. Contributions may be made through the Wilson & Muir Bank & Trust Co.
~Eowyn