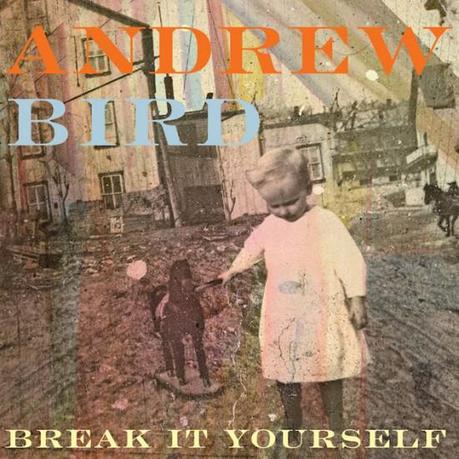 First, a necessary confession. I am big fan of Andrew Bird (@andrewbird). There is nobody quite like him. From his early days with Chicago backing band Bowl of Fire up through a complete self-reinvention as a solo artist, Bird has managed to remain a master of songcraft through numerous evolutions. It's extremely
difficult for an artist to keep quality consistent while also pushing their sound into new territory, but Andrew Bird has broken the mold. Break It Yourself, the first studio release under his new Mom + Pop label, is some of his finest work to date.
Moving away from the tightly architected orchestral pop of The Mystery Production of Eggs, Andrew Bird let things get loose with Break It Yourself and essentially rolled tape during rehearsal, allowing his band members to compose their own parts and improvise freely. The result is more cinematic than anything he's done before. This structural transition seems to make sense, though. Just before this release, he provided the soundtrack for the movie Norman. Sequencing the soundtrack to flow as a whole album rather than a collection of songs to accompany the film, Bird was praised by music director Peymon Maskan, saying "without having seen the film, you can imagine it by listening to the soundtrack." Indeed, Break it Yourself feels like the soundtrack to a film that has yet to be made. Sure, it's an archetypal Andrew Bird album with plenty of whistling and polysyllabic lyrics, but overall it's something entirely different than anything he's made before.
"Desperation Breeds" kicks off with a commentary on the declining bee population and includes a violin solo that actually sounds like a bee (without being pretentious). Later, Bird channels a Graceland-era Paul Simon in "Danse Caribe" that trades afro-beat for Irish and Celtic folk roots, ending up as one of the finest songs on the album. "Lusitania" uses World War I history for heartache metaphor and includes backing vocal assistance from Annie Clark of St. Vincent.
Of course, the poeticism present in Break It Yourself is absolutely brilliant. "Near Death Experience Experience" contains one of his finest lyrical moments with "We'll dance like cancer survivors, that were grateful simply to be alive/ We'll dance like cancer survivors whose prognosis was you should've died." Isn't that how we should always be dancing?
Andrew Bird has created the sonic equivalent of a wide-eyed inhalation of oxygen, surprising yet instantly comfortable. There is darkness in the looped and layered violins, although it is one borne of the cathartic, not the dreary. Although missing the variety found on previous releases, Break It Yourself has a depth of philosophical experience that will grow with each listen.  Full of swirling, muted tones and oblique metaphor, Break It Yourself will settle like sediment onto your ears in such a delightful way that you'll never want to shake it off.