Spicy arugula, briny olives and buttery Manchego come together in this simple salad with complex flavor.
Ingredients
1 bag baby arugula
1 large tomato, diced
3-4 black olives
1-2 ounces Manchego cheese, shaved
1/4 cup olive oil
2 tablespoons red or white wine vinegar
Sea salt
Freshly ground black pepper
Preparation
Wash arugula and dry completely.
On a serving plate, top arugula leaves with diced tomato, olives and shaved cheese. Whisk together olive oil, vinegar and salt and pepper. Drizzle dressing on top of salad.
Andrea Beaman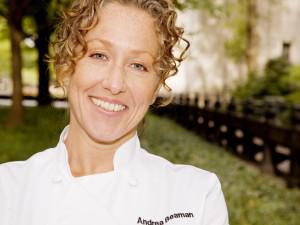 By the time she was 28, Andrea Beaman was diagnosed with thyroid disease, which she credits as her motivation to embark on a healthier lifestyle through natural and sustainable food choices. Her health improved after two years of natural food choices and therapies; those adjustments became the catalysts that changed her life and profession. She attended the Institute for Integrative Nutrition, where she currently teaches her mission to encourage a healthier world through nutritious meal solutions.
Andrea is a Natural Nutritionist and Holistic Health Counselor accredited with the American Association of Drugless Practitioners. She is also the author of her self-published book, "The Whole Truth," and her follow-up cookbook, "The Whole Truth Eating and Recipe Guide."