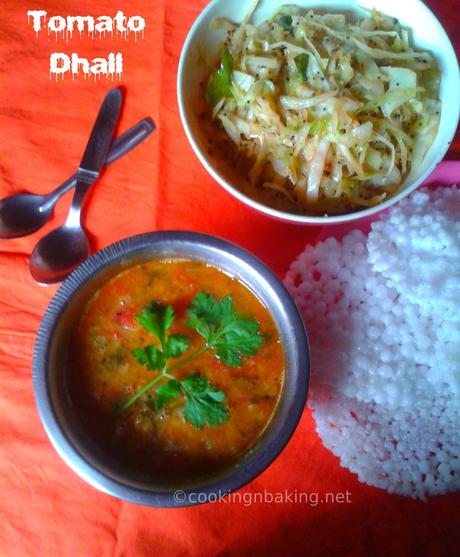 Andhra Pappu | Tomato Dhall
Andhra Pappu | Tomato Dhall is a dhall curry andra style. It is cooking of dhall with lots of tomato, so the dhall will have nice tomatoes tanginess. It taste yumm with rice and vadagam.
Ingredients
:
2 tablespoon of vegetable oil
1 tablespoon of ghee
1 teaspoon of mustard
1 teaspoon of cumin
Few springs of curry leaves
3 tablespoon of garlic chopped
1 onion thinly sliced
4 tomatoes roughly chopped
100 g of red gram
400 ml of water for cooking
water for soaking red gram (thoor dhall)
Coriander leaves chopped
Method
:

Heat oil and ghee in a pressure cooker.
Fry mustard and cumin and fry till mustard crackling stops.
Add curry leaves and garlic and fry well
Add thinly sliced onion and roast it until golden brown.

Add chopped tomatoes and salt.
Fry well till tomatoes turn mushy.
Add soaked red gram (Pre soak: refer notes)
Add 400 ml of water and add the coriander leaves.

Pressure cook for 3 whisltes and let the pressure come down.
Serve hot with rice and papad.