Andhra Avakkai Pickle | Avakaya Recipe - A traditional pickle recipe from Andhra cuisine. Easiest pickle to make if the proportion of the ingredients is perfect and it has a shelf life of one year. For Andhra style mango pickle, we need to use sour, unripe, and pulpy mangoes without fibers.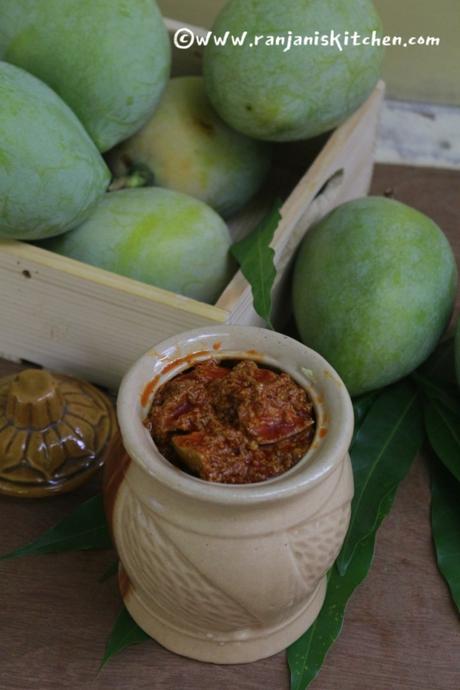 In the traditional way of making avakkai recipe, garlic pods to be added. I didn't add it. So you can add to get authentic flavor and taste. We should cut the mangoes with the kernel part, it is difficult to cut. If you are using a chef's knife (sharp ones) or a traditional Indian cutter(arivalmanai), it will be easy. Both ways not feasible for you, you can get chopped from mango vendors. In India, vendors will do a good job if you inform them it is for maanga oorugai.
What is pickling?
A process of preserving and extending the shelf life of food using anaerobic fermentation in Brine or using Vinegar. To make the pickles serve for a long time we will add antimicrobial spices like mustard, garlic, and oils like mustard oil and sesame oil.
What are the foods that can be pickled?
Vegetables, unripe fruits, seafood like fish and prawns are the lists which I known. I heard of pickling in meat, eggs, and dairy products also. I share some of it when I get a good knowledge of it.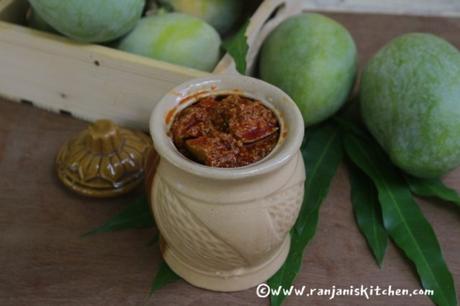 Any tips to follow for perfect avakaya recipe?
Of course yes. But not much 😊 because the easiest pickle( just mix and sundry) I ever made is this Andhra pickle. Now come to the tips,
Ensure the jar, mixing bowl and the ingredients are moisture-free.
Dry roast the rock salt and grind to increase the shelf life of pickle.
May I know the shelf life of Mango pickle?
People make avakaya in large quantities. Because we keep it without refrigeration for a year. My suggestion is, keep in bright sunlight for an hour in a day and top up with oil frequently. That way you can maintain this pickle good for a year. If you are not sure to maintain, please keep it in the refrigerator.
Some serving suggestions please:
I would say it's the best accompaniment with curd rice, and dal. My favorite is with sambar saadham 😊 do make a try and you will not regret it 😉. Have seen people eating pickles with chapathi and lemon rice.
Here is a video recipe for andhra mango pickle:
How to make Andhra Avakaya pickle:
Wash raw mangoes, wipe the moisture using a cloth.
Cut into small pieces and place it in a large mixing bowl, oorugai jaadi, or glass jar.
Dry roast the rock salt and grind to a fine powder.
Add salt, 200 gms of red chili powder, and 100gms of Mustard powder and fenugreek seeds.
To it add ¾ liters of sesame oil (nallennai), Mix well. Close with a lid and keep it for 3 to 4 days.
Stir using a dry ladle 3 to 4 times a day.
Optionally you can place 3 to 4 days in sunlight by covering with muslin or cotton cloth as in the picture to avoid the dust deposit in avakkai pickle.
After 3 to 4 days, you can see the oil floats on top.
Keep it in the refrigerator and serve whenever needs.
You might like these mango recipes as well.
check below for stepwise pictures of making Andhra Avakkai Pickle .
(Visited 1 times, 7 visits today)