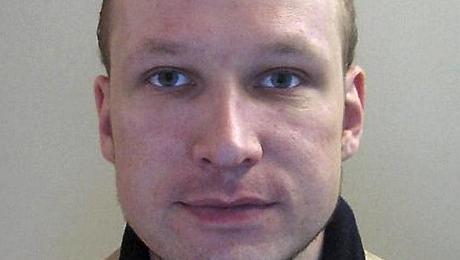 Anders Breivik murder trial
, summary of day one events:
1) Anders Breivik co-judge Thomas Indrebø deemed INCOMPETENT and kicked from the panel in this PANEL TRIAL. What a day-one stunner.
2) Now it's not fifteen photographers allowed in court, it's twelve. It sounds like they're backtracking and re-arranging timings, video footage allowance etc all over the place, incompetent lay judge kicked out, new lay judge sworn in.
3) Judging by the tweets emanating from the court and being broadcast on SKY NEWS and others, I think maybe it doesnt really matter what state of mind they find him in, his message is definitely being broadcast. SKY NEWS (certainly) really seems to have a(n ENGORGED) HARD-ON for the 'message' of Breivik, it's a little sick. A little too blatantly pornographic, imho. Nothing but ratings i.e. Advertising Revenue.
4) I don't get it. I really don't get it. Breivik was allowed to OVER RUN his alloted half-hour by ANOTHER THIRTY MINUTES. Who's in control in that court room?
5) The INSANITY judgement: I'm SERIOUSLY not a fan of 'some practicer' judging ANYBODY insane or not. INSANE implies that 'the majority' are sane; what even all those people ruining the planet with drugs and poisons, even all those people bankrupting competing companies, what all those people sacking people from jobs for tweeting, what all those people in jobs thinking being a corporate slave is sane?
"I have a message for the culprits and the PEOPLE BEHIND THEM..." the impression I'm given by this reactionary speech is, "Yes, President Stoltenberg had heard of GLADIO before Breivik arrived on the international terror scene."
GLADIO LIVES
, that's my real fear.
I mean, SOMEONE DID 9/11 to usher in Patriot A(tta)ct, and it doesn't have to have been an 'inside job' just a 'clever coercion' from a wonderfully powerful team embeded within the GIG or Global Intel Game. One is reminded of those HIJACKERS on 9/11 who were NOT REMOTELY CAPABLE of flying those big jumbos DEAD CENTRE into the tiny thin targets of the WTCs 1 & 2 on the day. Sigh, it's all so boring now.
I'm just REALLY PISSED OFF with the whole Game, which GLADIO was a very active and very insidious part of. GLADIO's 'half-hour justification' was that it was preventing Communism - really? - all those deaths of innocent people in Italy and Spain because of a political movement? Who are the real Fascists now?
6) Let's not forget that
Anders Behring Breivik said "mission accomplished" during a call to police after he massacred 69 people on Utoya island, it has been reported.
According to the Verdens Gang (VG) daily, the 32-year-old right-wing extremist said: "Breivik. Commander. Involved in the anti-communist resistance against Islamisation.
"Mission accomplished and I will surrender to the Delta force." [source SKY NEWS 2011]
7) What I don't intend is for this blogpost to attract all the anti-multi-culturalism or neo-fascist nutters. Just thought I'd make this clear.