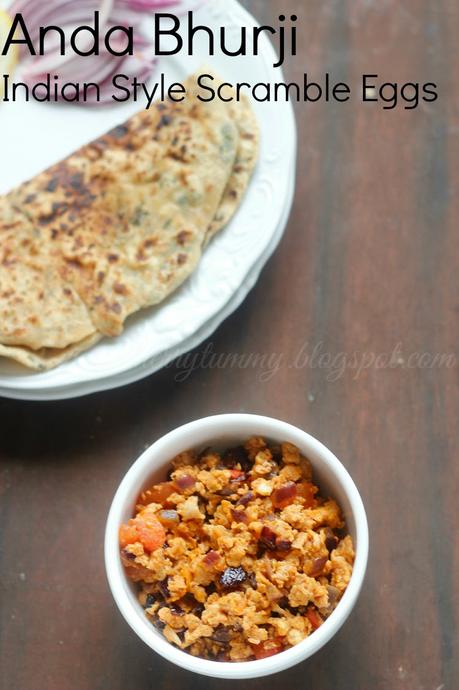 This movie called Selfie, has changed a bit of me. Sometimes you just need to be yourself; the people around can make you feel inferior or superior but you must be YOU. Do what you want, do what you think is right-you cannot please everyone every time. People will judge you, advice you but you don't have to care. You decide to be or not to be, to wear makeup or not; to be a stay at home mom or a working mom; to wear skirts or cover your body; to be with boys or girls; to have a tattoo or pierce your body.  Simple, right? Who are they to tell you when to have kids, why not to be a house wife, why to go to office? It's your life and only you know and understand you :-) 
Just check the video out and I am sure you will love it too :).

After moving to London; I wanted to stay at home, give time to my newly married life, explore the lovely city and just relax. Cooking became my addiction and passion and that is when this blog was born. When people asked me what I did whole day sitting at home? I explained them, I keep myself busy – I read, I cook, I blog, I do food photography, I take care of my house etc etc. Oh so you don't work, you don't get a job in London, they would ask me. One day I wrote a post on confessions of food blogger, and now when people ask me, I just give them the link.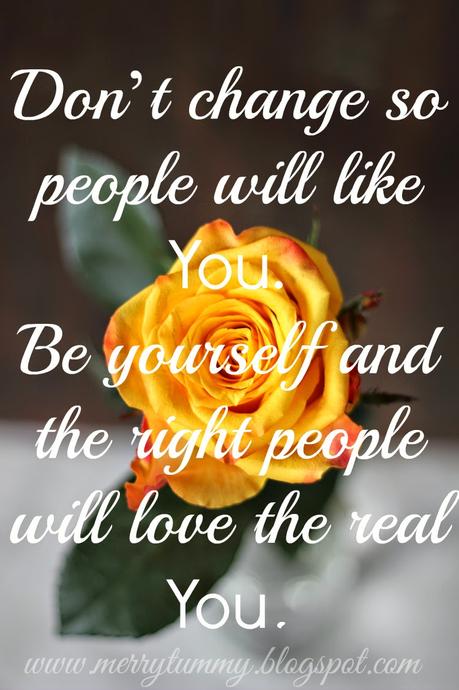 I am vegetarian by choice and in fact no one in my family eats meat or fish. My dad eats eggs and so do I. My in laws eat simple food without onion and garlic. That's their choice, when I was getting married, I was asked to shun eggs. I bluntly refused. Mr. Husband understood and I was allowed to cook eggs at home. He travels a lot for his office purposes, being a vegetarian he sometimes can't get anything to eat and there are times when he has to survive on canned juices for the whole day. I knew something had to be done.
One day, I decided to make Anda Bhurji. I presented anda burji as paneer burji because it is very much like paneer bhurji in texture and color. That is how he began eating eggs and now when he is in some foreign land he atleast can eat an omelet ;-)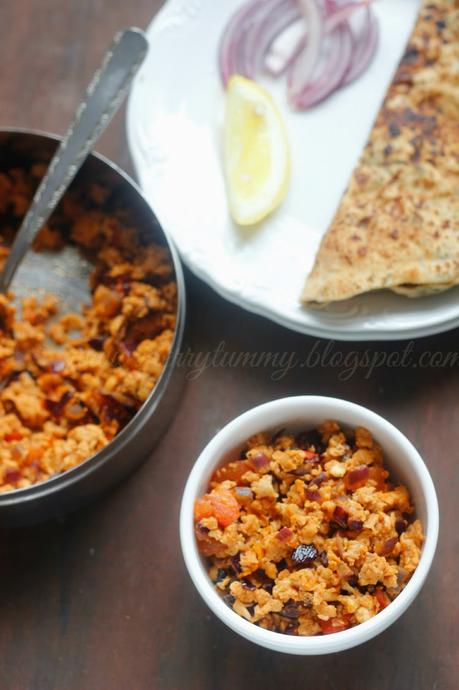 Anda bhurji is scrambled eggs but Indian style. In it goes Indian spices, veggies. In Mumbai you get anda burji with pav (pull part roll buns) on streets and some restaurants also sells bhurji parathas- both the combinations are tasty. The roadside vendors in Bombay make it on pav bhaji tava and that is what gives it a unique taste. Garlic, onion and tomato are the must-to-go veggies in Anda Burji and you can also use peas, capsicum as well.
Looking for more Bombay recipes? Check these out:
Pav Bhaji
Bombay Sandwich
Tava Pulav
Massala Pav
Kanda Poha
Bumbaiya Omelette
Anda bhurji is a wholesome filling meal. You can make it for breakfast, brunch, lunch or dinner. It takes care of your nutrients and gets ready in no time-what else can you ask for.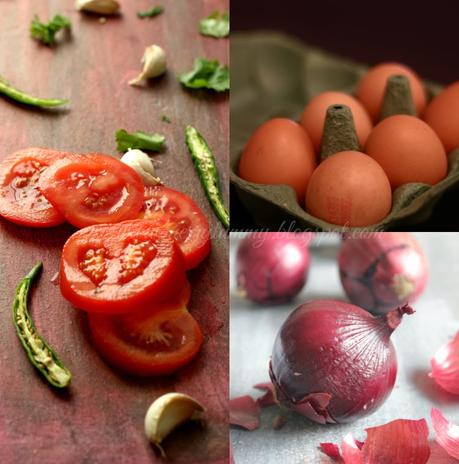 Ingredients:
2 large eggs
5 tablespoons milk
1 medium size onion chopped
1 medium size tomato chopped
1/4 cup capsicum chopped
2 cloves garlic minced/grated
1 tablespoon chopped coriander leaves
1 green chilli chopped

1 teaspoon lemon juice

1/4 teaspoon red chilli powder

1/4 teaspoon black pepper powder

Salt to taste

1 teaspoon pav bhaji massala (notes)

1 tablespoon oil

1 tablespoon butter



Method:
Heat oil in pan. When hot, add garlic and sauté for 10 seconds.
Add onions and capsicum. Cook till onions turn pink.
Add chopped tomato, lemon juice and green chilli. Mix in salt, red chilli powder, pav bhaji massala, black pepper powder. Mix and cook covered for 1 minute or till tomatoes become soft.
In the mean time, crack eggs and beat them in a bowl. Mix milk and beat again till forthy.
Mix eggs in the pan. Keep stirring and scrambling the eggs.
Add butter and coriander leaves. Mix and serve.



Notes:
You can pav bhaji massala in any Indian grocery store. I used Everest Pav Bhaji Masala.
I have used three peppers- green chilli, red chilli powder and black pepper. This is a spicy dish, please adjust the heat level as per your taste.
Serving suggestion:
Serve with pav or bread.
Goes well with plain parthas. You can serve with palak partha, methi thepla or daal partha as well.
The burji can be stuffed into parathas as well. (Recipe coming soon).
Fill in between two slices of bread and make a sandwich out of it.