Yesterday was the beginning of New York's Mercedes-Benz Fashion week. I must say, it was quite invigorating sitting in class and hiding my phone from my professors to get a first look at some of the shows through an amazing tool i like to call instagram. Yes, it hurts not to be in New York during this annual historic fashion event BUT I will be there next year. Don't you worry. Since i'm no where near the actual fashion shows, the next best thing is my macbook. Thanks to Style I can keep up with the lastest runway shows and see what's coming up for the Resort collections. A few of my favorites yesterday had to be Kimberly Ovitz, Rachel Comey, and Tadashi Shoji.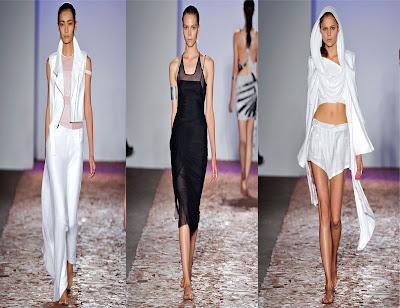 Here, Kimberly Ovitz kicks ass with basic colors such as black and white and a simple but edgy approach to design in her dresses, knits, and bottoms.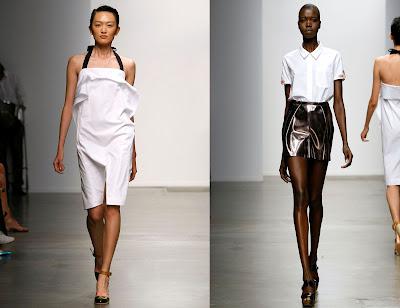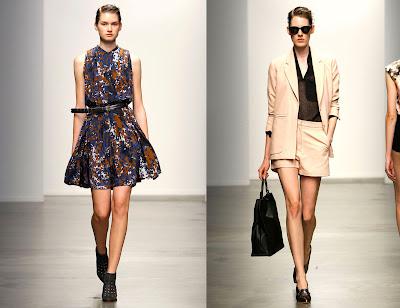 Next, Rachel Comey comes in with beautiful feminine silhouettes paired with inspiration from mens suits. The floral and metallics are a perfect touch for the fall.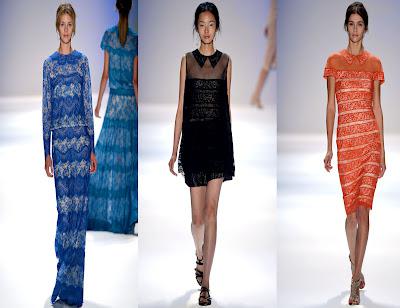 Lastly, Tadashi Shoji presents her "little house on the prairie" turned sexy dresses combined with lace and bold autumn colors.
Gimme more!