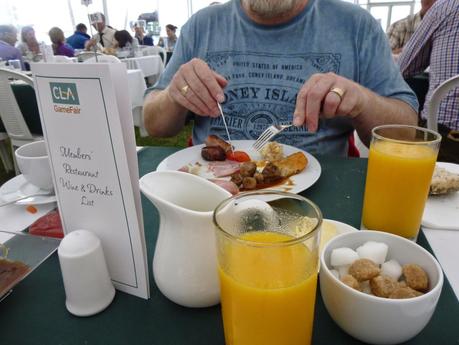 I was away over the weekend.   I traveled down to stay in Lovely Hubby digs in Berkshire with him so that we could go to the CLA Game Fair at Blenheim Palace on the Saturday.  As we are members we get a free ticket every year, it also means we get to go into the members enclosure as often as we want during the day, which this year we had our breakfast in.   It is such a huge show that you really do need a full day to make the most of it so to avoid the traffic chaos we set off at 6.45am and were sat enjoying a cooked breakfast by 8.30am.  Not a bad start to the day.    We had learnt a lot from our previous visits here and had bought a Priority parking ticket which meant our car was just a quick walk from the showground, meaning we could walk back to it a couple of times for cold drinks and to deposit our coats when the sun came out. We took tasty salads, crisps and nibbles washed down with chilled wine.  We even took ice cubes in a flask and our wine glasses to give ourselves a real treat.   Our first ever visit was totally different.    We got there in the crush of people, parked in the free car park which meant a long walk to the entrance and no means to be able to get back to the car until the end of the day.  Before we left home we had breakfasted on a quickly grabbed slice of toast, were hungry by late morning, paid through the nose for a lunch that left us hungry again by mid afternoon, got tempted by Pimms which set us back just under £30 for two glasses.  So we spent lots of money and came away with nothing.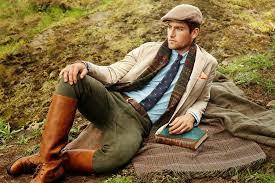 Picture from Google Images

  We did a lot of people watching over a long and leisurely lunch, which we had taken ourselves in our picnic basket and cool bags.  We sat on a rug alongside the car watching folk doing the same or some just arriving.  So many people had obviously bought themselves brand new 'country clothes' to wear so they would look the part.  Head to toe in classic country garb, brand new shiny leather boots, waxed jackets so glossy and sheeny they had never been called upon to defend the wearer from rain.  You can recognise the real country folk, they are the ones in threadbare check shirts, old flat caps and well worn wellies.  This year there were also lots of 'festival attire', short shorts, flashy floral wellies, long flowing hair, and even longer tanned legs ..... no wonder LH managed to stay awake through lunch :-)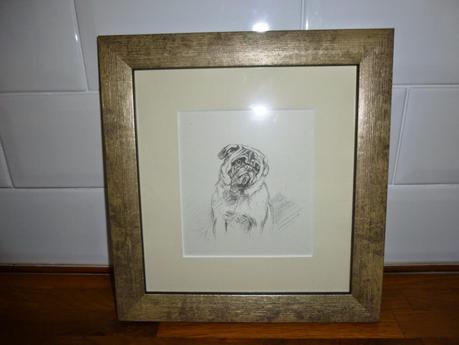 This time instead of spending money on overpriced food we spent a little on treats for ourselves.  We bought this lovely 1930's sketch of a Pug with a real look of Suky about it.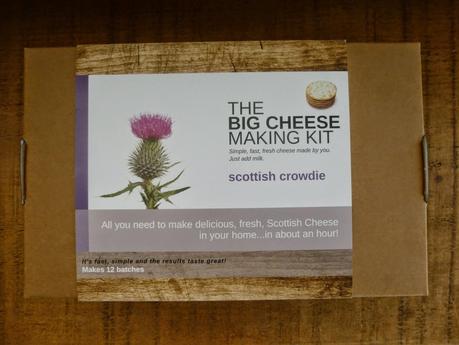 And also a cheese making kit, it's about time I tried my hand at this.  So I guess overall we spent about the same amount of money but came away with long lasting gifts and tummies full of good food.   It was a brilliant day, long and tiring, but the weather although extremely hot was mostly dry and kind to us,  and we just wore our own clothes ..... and yes, Lovely Hubby wore his flat cap ;-)   Sue xx