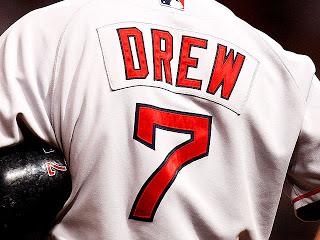 Pete Abraham of the Boston Globe put up a column yesterday about what numbers the newly acquired Red Sox will be wearing, and a few players will also be changing numbers as well.
The great Red Sox site RedSoxDiehard has a full listing of all player numbers throughout team history, and definitely worth checking out.
Here are the players who are changing numbers for 2013:


Jose Iglesias: 10 (was 58)




Will Middlebrooks: 16 (was 64)




Ryan Lavarnway 20 (was 60)




Pedro Ciriaco: 23 (was 77)




Daniel Nava: 29 (was 66)




Felix Doubront 35 (was 61)




Junichi Tazawa: 36 (was 63)




Franklin Morales: 56 (was 46)




Glad to see so many of those "football numbers" disappearing. They reminded me of that awful Jimmy Piersall movie "Fear Strikes Out." If you saw it, you may have noticed that every Red Sox player but Piersall wore a number in the 60s, 70s and 80s.

Here are the numbers to be worn by the newly acquired players:

David Ross: 3 




Jonny Gomes: 5 




Stephen Drew: 7 




Shane Victorino: 18 




Koji Uehara: 19 




Brock Holt: 26 




Ryan Dempster: 46 




Joel Hanrahan: 52

No word on what number Mike Napoli will wear. Or anything else about his signing for that matter. Another Drew will be wearing 7. And the Sox wasted no time giving out the numbers formerly worn by Daisuke Matsuzaka and Josh Beckett. 

Numbers that the coaching personnel will wear:

Brian Butterfield: 13




Torey Lovullo: 22




Greg Colbrunn: 28




Arnie Beyeler: 43




Juan Nieves: 47

John Farrell: 53

Gary Tuck: 57




Victor Rodriguez: 58

Interesting that John Farrell will wear 53 and not 52, which he wore in his first time with the Sox as pitching coach and managing Toronto. I can only guess Joel Hanrahan asked him for and got the number.

The first thing I noticed about the numbers listed here was that STILL no one on the Sox will wear 21, who was last worn by Roger Clemens in 1996. I know the number is not retired or even semi-retired, as I remember in an interview a few years back, Jonathan Papelbon revealed the Sox actually offered 21 to him, but he turned it down and stayed with number 58. I know Clemens has made nice with the team over the past few years, as he has shown up to Fenway Park on a number of occasions, such as the Johnny Pesky memorial and the All-Fenway Team last season.

Could they now be holding 21 in case he gets elected to the Hall of Fame? Maybe. But I wouldn't hold my breath on that happening ANY TIME soon.

Also interesting that the Sox have given out 26 again. A guy in the Hall of Fame who won numerous batting titles some years ago named Wade Boggs once wore it, but it has been given out to many players since his departure in 1992. I haven't seen Boggs at anything regarding the Red Sox over the years. I can only imagine he and Sox management have little or no relationship, and they don't care at all about anyone wearing his number.