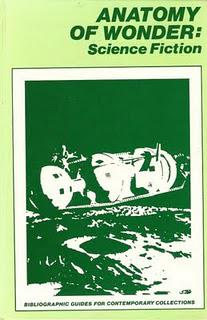 In addition to reading science fiction, I love reading non-fiction books about the field.  This includes various histories of the field (such as Mike Ashley's histories of the sf magazines), biographies (Isaac Asimov, Robert Heinlein, and others), interviews (Charles Platt's Dreammakers) and overview/reviews books like Neil Barron's seminal work-Anatomy of Wonder.
Is Barron's book worth tracking down?  Let's take a look and see.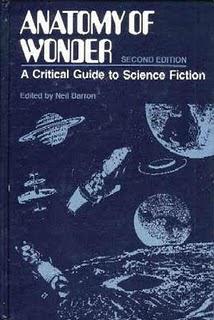 I have kept my eyes open for this book for a long time.  Earlier this year I finally received a copy of the third edition.  It is now up to the fifth edition.  With each edition the authors expand the scope of the work.
As you read this book you will gain a understanding of some of the history of science fiction.  A reading of the reviews of numerous books (the latest edition contains reviews of over 1400 books) will give you a very short idea of what the novel is about and also recommend other books you might like.  This is not a collection of in-depth reviews.  Based on the length of this book, I cannot begin to imagine how long it would be if the authors did a long review of each of the novels that are summarized.  In a work like this, the short review is the only chance you have of keeping it from growing into an encyclopedia.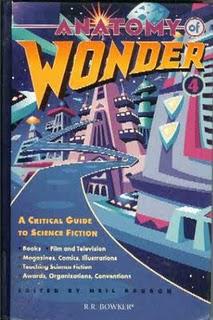 The writing style is easily understood by the average reader.  The subject matter and amount of work allow this to also be used by other researchers.
I would have loved to read this book when I first became involved with the field.  It gives a short review/summary of numerous books listed by author.  Is the list comprehensive?  While no two fans will agree on what should be on the list it does a solid job of giving the researcher or reader a starting point.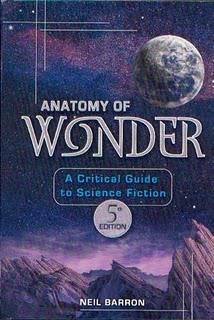 I spent many hours leafing through the book and reading random entries.  In the end I wound up reading all of it.  If you know a serious fan, I would definitely recommend this book for them.  If nothing else, a glance through the reviews will either introduce you to unfamiliar writers or remind you of ones that you may have forgotten.
Highly recommended.