It is said that an Indian woman looks her sensuous best in a traditional dress, let it be a gorgeous
silk saree
 or a salwar kameez suit or a lehenga or any other traditional dress. These dresses enhance the beauty of a woman as it perfectly drapes around her increases her beauty and femininity by many folds.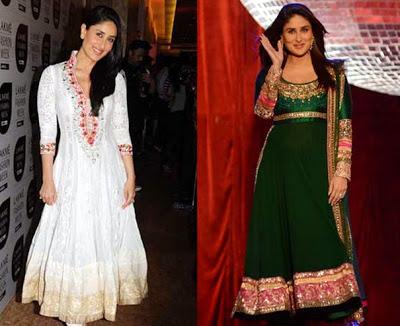 Bollywood diva Kareena looking stunningly gorgeous in Anankali suits
On the lines of Salwar suite or
Salwar kameez
comes a unique set of suit that is known as Anarkali suit. They are just like any other salwar suit but with a slight difference. Anarkali suits are actually a mix of two different types of dresses. They are inspired by two different and very varied cultures in India. The upper half of the kameez is just like any normal kameez that you would see in the market. What is interesting is the lower half of the Kameez. That is what sets Anarlaki suits apart from any other normal salwar suits. The bottom half is inspired by the dress worn by the women in Rajasthan, North-western state of India. It is more like the lower half of
ghaghara
and is bejeweled with beads and stones. Anarkali suits are long and usually comes up to the knees, in some designs up to the ankles. They come in different vibrant colors and can be worn as a party wear. 
If you are fond of different kinds of salwar suits and have not yet bought an Anarkali suit, then you and your wardrobe is definitely missing one of the most elegant and beautiful traditional Indian dresses and it is high time you added one to your collection.