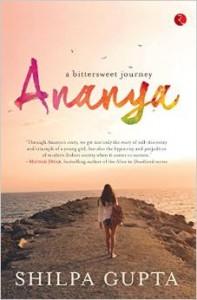 Meet Ananya Sharma, not your regular, teenage girl-next-door. Sure, she loves hanging out with her friends and engaging in whispered confidences at sleepovers, but when it comes to boys, she has competition on her mind rather than romance. At school, she is passionate about math and the sciences, and completely focused on cracking the IIT entrance exams.

But when distraction enters her life in the form of the handsome and charming Rohit, Ananya discovers love, longing and betrayal, all at once. Finding herself pregnant at the age of seventeen, she learns that the world is a very different place once you are on its wrong side.

The discovery of the fault lines in her parents relationship which until then had seemed perfect to her further breaks her. Will Ananya be able to reverse the downward spiral that her life has plunged into and find meaning once again?

~ Synopsis from the back of the book
Ananya is billed as a bitter-sweet journey and that is exactly what it is. The story as such is pretty simple. A young smart teenage girl gets seduced by an older boy and becomes pregnant. The rest of the book deals with the consequences of one reckless decision and how Ananya and her family and friends slowly get life back to normalcy again.
The book is not billed as a young adult book, but I think it's the genre it most naturally fits into. Written in a simple and straight-forward way without any morality preaching, I would recommend this book highly for all teenagers to read and imbibe the subtle messages.
On the surface this book is about a teenage pregnancy, however, it is really a book about falling down but not staying down. I found myself rooting for Ananya and her family as they struggle to adapt to all the changes in their lives.
In India, there is a lot of shame related to pre-marital sex, and I loved how the author dealt with that topic honestly without any filmy melodrama. I also like that there was no focus on trying to get Ananya married off or angry patriarchal scenes or anything like that – something that is often seen in Hindi movies.
Instead, she quietly goes about trying to get over her heartache, continue her studies, and learn some life lessons along the way.
Admirable! This book is a keeper and I highly recommend it, especially for young teens who will find this a very relatable book.
Huge thanks to Rupa Publications for sending me this book for review consideration.

You can also purchase a copy of this book from Amazon