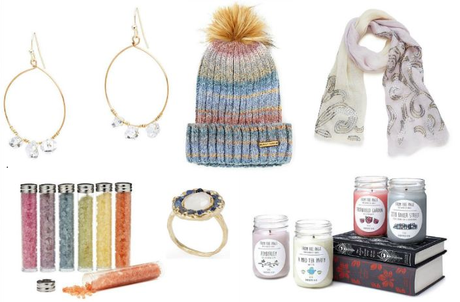 This post contains paid-for content, see my PR page for more
I love this time of year. The season of the witch, or the dark half of the year, as it is known. So many of my friends and family have their birthdays during these cold months, which means that hardly a fortnight goes by without celebrations and gift-giving of some sort. We sometimes end up exchanging small presents on Halloween, Samhain, The Winter Solstice, Christmas, New Years...and then my birthday roles around in January. Sometimes we create and cook up these gifts ourselves, but I also love to find new, quirky businesses to support when I'm buying for my clan, or asking for myself. What I've picked out above is just a tiny selection of all the nifty magical things I spotted at UncommonGoods. I'm especially impressed with their range of handmade jewellery, everything is so beautiful! I'm always far too pleased when I get jewellery from a lover but there's lots more gifts for your girlfriend here, if she's a slightly unconventional type like me, who wants all the things.
I find buying for friends a bit easier than buying for romantic partners, but sometimes I still draw a blank even though I pride myself on pulling cute and original ideas out of the bag when I need to. My aim is usually to get them something they didn't know they needed, that will be a complete surprise. I really like the literary-themed soy candles above, and the chakra-balancing bath salts (they even sell spell candles with hidden crystals inside!) both cool gifts for the Ravenclaws among your peer group. For more ideas for your pals, check out this page.
No matter who I'm buying for, filling up stockings at Yule is always the most fun, because it's where I get to really take risks and get random with my presents for people. In my family we're never able to guess anything that's in our stocking; they're like little bundles of tokens reflecting our personalities and our interests. We like to pack them full of laughs to get us going early on Christmas morning. Even though it's only November and I don't tend to start buying gifts until Advent on December 1st, just thinking about all the celebrations ahead and what gifts I'm going to give has its own kind of tender excitement. We're almost there.