25- Cartoon Wars 2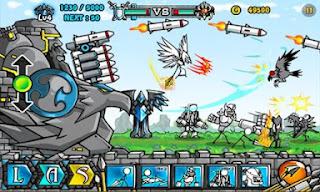 Cartoon Wars is a simple arcade war game from BLUE Games, combining elements from the defense and RTS genres. I never found myself really getting sucked into the world, but it was fun to play for five to ten minutes at a time. Bolstered with a cool looking cartoon art style, Cartoon Wars provides solid gameplay for an inexpensive $0.99.
24- Dynamite Jack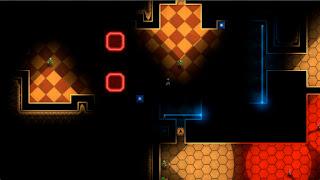 Developer Hassey Games, crafted an addicting top-down arcade stealth game on iOS devices that I simply cannot stop playing. Add in simple controls and some unique neon-based lighting scheme and you have a great game. Dynamite Jack would be significantly higher on my list but in my opinion it's $2.99 price tag is a bit overpriced.
23- Fix-it Felix Jr!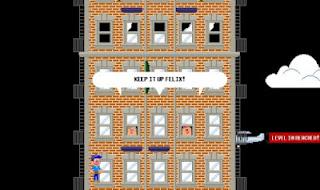 While I generally try to avoid licensed games, as they are usually awful, Fix-it Felix Jr really surprised me. Based off Disney's upcoming animated film Wreck-it Ralph, the game oddly reminds me of a Game and Watch game. The gameplay is simple and addicting but provides quite the challenge in the later levels. Fix-it Felix is a great arcade game with an 8-bit retro aesthetic. The game is also free, so there is no excuse to not play it.
22- Sonic & SEGA All-Star Racing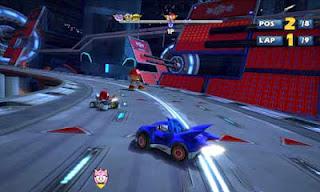 If there's one genre of games the AppStore has its racing. Unfortunately most of them are generic or downright boring. Luckily for iDevice gamers SEGA gave Sonic & SEGA All-Star Racing out to veteran mobile game developer Gameloft to localize the game to iOS platforms. Sonic & SEGA All-Star Racing is very refreshing for frustrated iOS racing game enthusiasts and well worth the $1.99.
21- Catapult King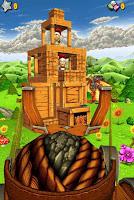 Catapult King is one of mobile game experts Chillingo's best and unique games available on the AppStore. It bears a resemblance to EA and Steven Spielberg's critically acclaimed Wii exclusive, Boom Blox. I reviewed the game around a month ago and still find myself playing it, constantly getting stuck in its infuriatingly difficult levels. Catapult King is one of the AppStore's most addicting and unique games, plus it's free with optional in-app purchases.
20- Tiny Tower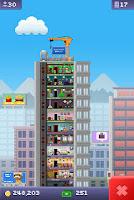 iOS devices  are one of the best platforms for asynchronous simulation games and Tiny Towers really shows why. NimbleBit LLC really came out of their comfort zone and showed their stuff on Tiny Tower, after developing relatively underwhelming games like Pocket Frogs or Fishtropolis. Tiny Tower is a must own for any iDevice, no matter how "casual" or "hardcore" of a gamer you are. Tiny Tower cost nothing to download but offers a slew of in-app micro transactions, which I surprisingly purchased frequently after the games addicting gameplay sucked me in.
19- Golden Axe 3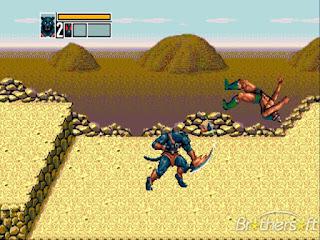 SEGA is one of the biggest game developers to utilize mobile platforms and boy oh boy does it utilize it. One of my favorite SEGA franchises is Golden Axe, especially the third game, so when I heard they were porting it to iOS devices I was naturally ecstatic. I did have a few concerns though, such as the translation between the already shaky Genesis controls to fully touch controls but they ported it wonderfully. If you the original Golden loved Axe Trilogy, or retro fighters in general, then Golden Axe 3 is a must own with its low $0.99 price.
18- Tiny Wings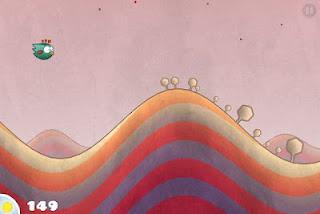 In Tiny Wings, the player takes control of a bird whose wings are too small to fly. German developer Andreas Illiger did an amazing job creating a game so brilliant in its simplicity, originality, and ability to keep you coming back again and again. Most iDevice owners have probably heard of or seen Tiny Wings, but if for some wildly unimaginable reason you haven't, it's a great deal for only $0.99.
17- Sonic CD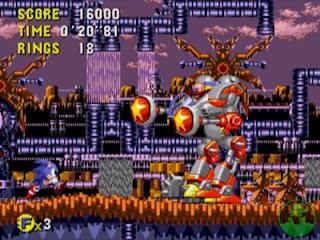 Sonic CD is one of the most unique titles in the Sonic franchise ever since it's relatively unsuccessful 1993 release on the SEGA CD peripheral. SEGA porting Sonic CD to iOS was very exciting because it allowed me to play the game without pulling out my horribly designed SEGA CD and it's annoying extra cords and attaching it to my Genesis. Now I could just pull out my iPad or iPhone and satisfyingly defeat Dr.Robotnik whenever I wanted. While the game's $4.99 cost may be questioned by some, believe me, it's very much worth it. Between the stunning visual updates, the addition of Tails as a playable character, and the American and Japanese soundtracks, this is the standard to which all iOS ports should be held.
16- Warlords: Call to Arms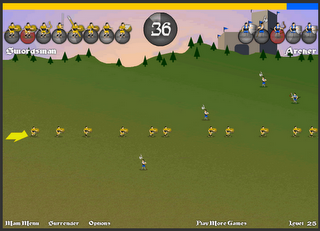 Based off Ben Olding's massively popular browser game of the same name, Warlords: Call to Arms provides relentless, addicting fun. Warlords a strategic defense game mixed with some "Risk-like" elements. Tom Delorenzi did an awesome job localizing Warlords to a touch-based platform, especially with the controls. They are very simple; yet work so well with the game. Warlords: Call To Arms would be higher on my list if not for it's $1.99 price tag, I would recommend waiting for a sale to purchase the game.
15- Bejeweled Blitz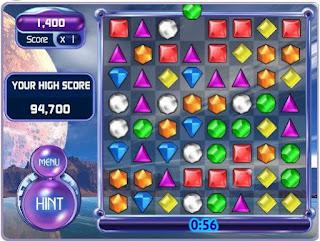 Bejeweled Blitz is originally a Facebook application which is developed and published by PopCap Games. It soon expanded into a downloadable game, based on the then-in-development Bejeweled 3 engine, due to popularity of the differences from Bejeweled 2 and its new graphics. It provides simple fun, great for short bursts of entertainment for a minute at a time, especially because it's free.
14- N.O.V.A 3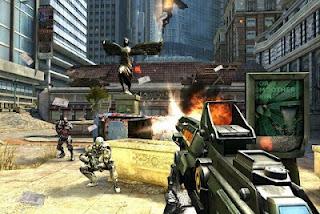 N.O.V.A 3 is the third, and by far the best, installment of Gameloft's amazingly successful FPS N.O.V.A franchise. Essentially an iOS Halo clone, N.O.V.A 3 doesn't have a deep or engaging storyline, a problem most FPS' are plagued by. It's really the addicting gameplay and stunning visuals keep me constantly replaying the campaign as well as toying around with the multiplayer every so often. N.O.V.A 3 is an amazing FPS with absolutely stunning graphics that really show the potential of console quality games on a mobile platform and worth the $6.99, although it should probably be reduced slightly.
13- Trigger Fist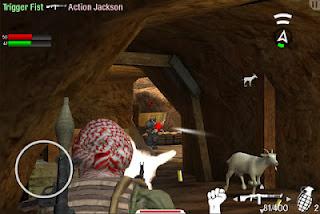 Up and coming indie developer Lake Effect Apps has finally answered to many iOS gamers cries for help. We have always needed a great arena based third person shooter tailor made for iOS. The solution to that problem is Trigger Fist. The game has no vertical aiming, making for significantly easier aiming. I also love the fact the game "understands" what it is and embraces it. It's a game where you shoot stuff with your friends. That's it. No stupid, shallow story tacked on at the last minute. Trigger Fist is absolutely free of charge, with optional in-App micro transactions, so if you like third person shooters or shooters in general go download it now!
12- Doom  RPG 2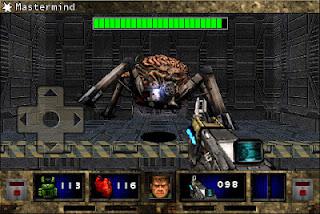 Developer iD took their wildly successful granddaddy of FPS game Doom, and added a huge twist. They took out all shooter aspects and replaced it with some great new RPG elements. In Doom RPG 2, iD tool everything that was great about Doom RPG 1, and improved upon it greatly. The game doesn't really have a noticeable story, other than choosing between the three classes and strategically blasting your through waves through waves of Nazi scum! I've put around 10 hours into Doom RPG 2, making it very much worth the $2.99.
11- Streets of Rage II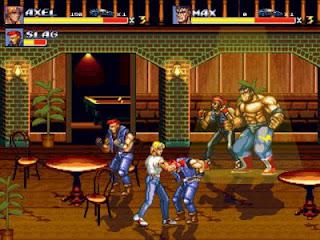 My favorite beat 'em-up game of all time translates oh so well to iDevices. Streets of Rage II really kept everything awesome about the first game and added in some great new mechanics. It's a fairly simple, yet addicting side-scrolling beat 'em up in which you can lose hours of time tearing your way through waves of mindless brutes. You control one of four characters, each with different strengths and weaknesses. Originally released on the Mega Drive/Genesis, Streets of Rage II's controls made a decent translation to a touchscreen. As SEGA usually does for it's iOS ports, they just slapped virtual buttons over the top of the screen. I often find myself hitting the incorrect button, ending my combo, due to the massive buttons. They didn't even take the time to add touch support to the menus, so you have to navigate through the menus using the virtual d-pad. Streets of Rage II would be lower on my list if due to it's sloppy control scheme, but it luckily it's only $0.99 and a must play classic game.
10- Tetris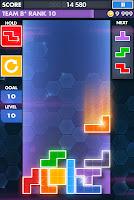 With a huge fan base for iOS puzzle games, a reboot of the cult classic Tetris was inevitable. Developed and published by Electronic Arts, Tetris took all that was awesome about the original game and improved upon it greatly. With added modes such as Marathon and One-Touch Tetris is well worth the $0.99 for all puzzle game enthusiasts.
9- Ultimate Mortal Kombat 3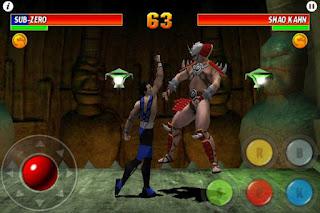 One of the  notoriously challenging and gore-filled fighters in existence on iOS devices for only $0.99. Developer Ed Boon and John Tobias have done an amazing job creating a fantastic fighter, that really defines the pinnacle of the franchise, while also constantly making me want to throw my iPad against a wall. While I did think there may be a problem porting over the combo-reliant control scheme to a touch-only device, iOS localization geniuses EA somehow managed to pull it off. It feels as though I'm mashing my old Genesis controller circa 1996. UMK3 really makes you feel accomplished when you win or completely defeated and demoralized when you lose. Ultimate Mortal Kombat 3 is an amazing, classic fighter that really is the definitive fighter on iOS devices.
8- Doom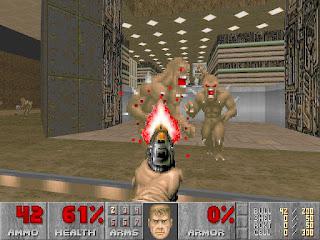 The cult classic that introduced the world to first person shooters and 3D rendering ported to iOS devices? Sounds great to me! Developed by iD software (with some help from Bethesda Software), Doom has received amazing treatment during its localization process. With slightly improved graphics, intuitive controls, and all 4 episodes combined, Doom is a must own for all iOS gamers, especially at it's $0.99 price
7- Dead Trigger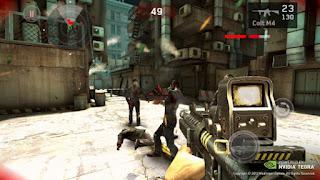 Dead Trigger is my favorite FPS on iOS devices by a long shot.  MadFinger Games did an amazing job crafting a visually stunning and immersive game. While Dead Triggers story isn't amazing, it serves it's purpose tying together the seemingly endless amounts of quests available. It follows an unnamed character and his horrific journey through a dying, zombie plagued United States. While the story doesn't really suck me in to the game, the gameplay keeps me excited and addicted, always coming back to mow down the endless hordes of the undead. Add in Dead Trigger's low price of $4.99 and it truly the definitive FPS for all iOS platforms.
6- 1-bit Ninja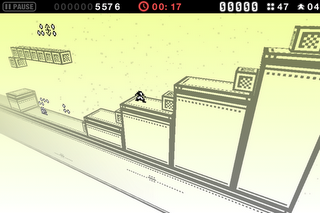 KODE80 has created one of the most unique and addicting platformers I've ever played. You control a pixelated character working your way through intensely challenging levels. The game has a retro 8-bit look, and bears a great resemblance to the Gameboy's Super Mario Land series. The game is mainly played in the 2D view but by tapping the either upper corner do the device the camera swings around giving you a beautiful 3Dimensional view of of the pixelated landscape, which allows you to locate secret passageways or unlockables. The controls are highly simplistic but work so well. If you tap the left side of the screen you run, and of you tap the right, you jump. As an added twist to the game you can only run one direction and you only have 2 minutes to complete the level. 1-bit Ninja is by far the best platforming experience on iDevices and a great value at $1.99.
5- Scribblenauts: Remix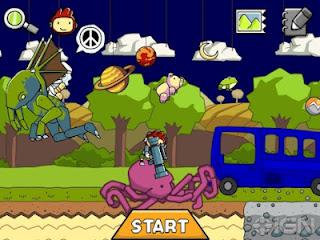 Scribblenauts: Remix is an emergent action puzzle game developed by 5th Cell and Iron Galaxy Studios and published by Warner Bros. Interactive. To solve the game's 40 challenging puzzles, you have to use a variety of different nouns and adjective to create objects needed for the puzzle. Ranging from animals, weapons, vehicles, and many more are all at your disposal, as long as you know the word that is. Scribblenauts: Remix also have some simple platforming elements in, although nothing to challenging. Scribblenauts: Remix is one of the most innovative games of all time, and is a great addition to the AppStore, securing its spot with a low $0.99 price.
4- Zenonia 4: Return of the Legend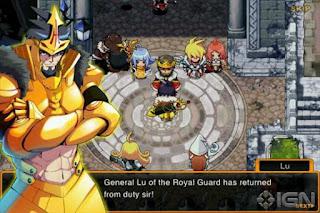 As the forth installment of the insanely popular Korean-RPG franchise, Zenonia 4 had some pretty massive shoes to fill. Luckily for iOS gamers, developer Gamevil outdid themselves on Zenonia 4. They took all the best elements from the past three games as well as the opinions of fans of the franchise and put them into one great KRPG. The game continues the story of Regret, the protagonist of the first Zenonia, 10 years after the story of Zenonia 3.  Regret finds himself trapped in a world called "The Land of the Fallen," a world between death and consciousness. Regret is approached by his future self to warn him of a dark lord that is rising and threatening the land of Zenonia. With the help of the fairy Anya, Regret seeks to stop the rise of the dark lord and save Zenonia. Zenonia 4 really tells an interesting and engaging story that forces you to care about the characters, a quality most iOS games fail to create. Even better is the fact every game in the Zenonia franchise, including the 4th, is completely free of charge.
3- Plague Inc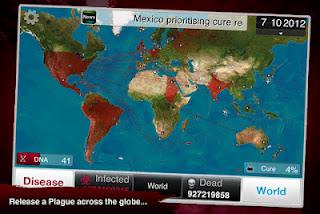 Plague Inc. is the latest and perhaps greatest entry in the perplexingly popular pandemic simulation genre. Players must design the most lethal and effective plague possible, with the darkly satisfying end goal of killing every human on earth before they discover and cure your engineered disease. Your infection starts off basic, but can be mutated regularly to infect and spread more rapidly, or to be made more lethal. Developer Ndemic Creations has created an amazing $0.99 simulation game, tailor made for iOS Devices.
2- World of Goo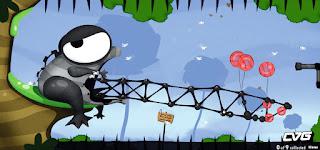 World of Goo is a physics-based puzzle game by 2D Boy, an independent game developer consisting of Kyle Gabler and Ron Carmel, both former Electronic Arts employees. The game is built around the idea of creating large structures using balls of goo to reach a pipe, that signifies the end of level with a predetermined number of goo balls. 2D Boy has created the most unique games I've ever played and for $0.99 it should be on every iDevice.
1- Pocket Planes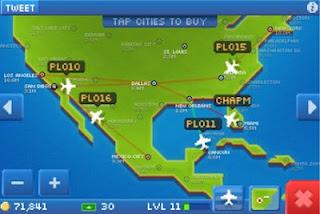 If there is one genre of games iOS devices are best suited to it's asynchronous simulator games. They enable you to play for a few minutes at a time, or get sucked in and play for hours. In Pocket Planes you own and operate an airline, starting with a few planes operating in small towns until you have a huge airline dynasty. Developer NimbleBit LLC, has created such gameplay so simple and intuitive its expanded into an addiction to me. Pocket Planes Is the pinnacle of simulation games, and iOS games in general, especially because it's absolutely free. Pocket Planes is the difinative iOS gaming experience , and should be on every iDevice.

***So! Now that I've listed my top 25 iOS games I want to hear yours! Sound off in the comment section below!

Kyle Yagielski

@DrMrPHD