This past week we have been re-watching Yotam Ottolenghi's TV series called "Ottolenghi's Mediterranean Island Feast", in which he visits four islands in the Mediterranean (Corsica, Sardinia, Mallorca and Crete) to explore their food and cuisine. Even though we had seen it before, it still fascinated and inspired us, and both Jane and I have been preparing fresh Summery dishes along the lines of some of those that Ottolenghi created. One of the things I like best about his TV programmes is that he always has a go at making one or two of the local dishes (under supervision), but he also puts up something that is "inspired by" what he has experienced; something which he has invented himself, using the best local ingredients.
Yesterday it was my turn to cook, and since it was another hot day I decided it should be a salad-based meal. I can't think of a suitable name for it because it has lots of different elements to it!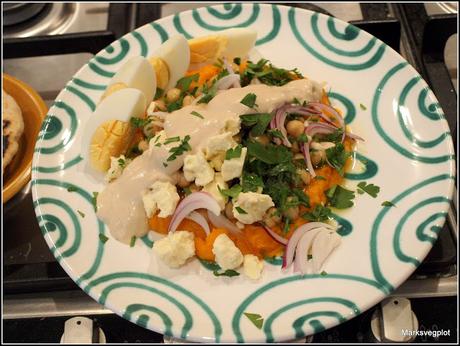 My dish is one that is predominantly cooked in advance and just assembled shortly before serving. To be honest though, there is not a lot of cooking involved!
The first and longest task is to roast a quartered Butternut squash, brushed with oil and dusted with ground white pepper. When this is cooked use the food-processor to convert it into a smooth puree, and refrigerate it for later.
Then at any convenient moment...
Hard-boil a couple of eggs (yes, even I know how to do this!)
Rinse and drain a 300g tin of chickpeas and marinate them in olive oil and chopped flat-leaf Parsley, with a half-teaspoon of ground Cumin and some added salt (I remembered Ottolenghi saying "Chickpeas ALWAYS need salt....")
Crumble about 50g of strong-flavoured cheese. Ottolenghi would have used salty Feta, but I went with a milder British one - Wensleydale.
Cut half a red onion into thin slices. I used one I had harvested from my own garden earlier in the day...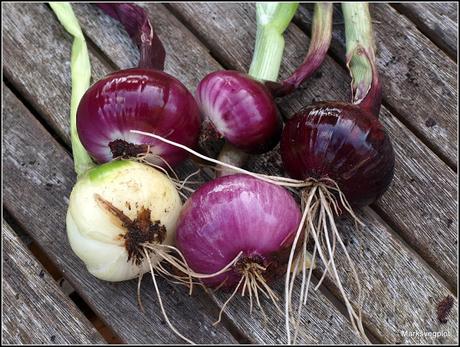 Finally, prepare some Tahini dressing. This uses simply Tahini paste (from a jar), salt and lemon juice, stirred vigorously and let down with tepid water until it reaches the desired consistency. It needs to be pourable. Ottolenghi puts garlic in his, but I omitted it because I think the taste of raw garlic can easily overpower other less robust flavours.
To accompany my salad I made some Mediterranean-style flatbreads, using a recipe that Jane brought back from a course at the Waitrose Cookery School. It's really easy. All you do is make a dough with self-raising flour, yoghurt, salt and water, let it stand for an hour or so, shape it into balls, roll them flat and cook them on a griddle for about two minutes (flipping once) until they puff up. The result is something like tortilla-meets-pitta...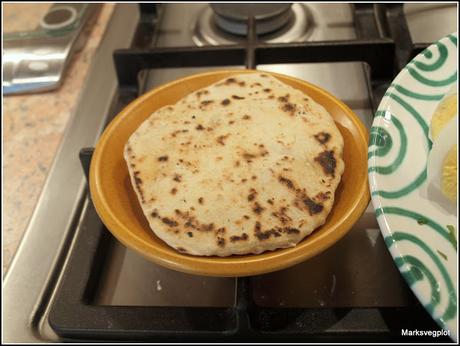 Now, at the appropriate moment, assemble the dish. My salad lends itself to being prepared just minutes before serving-time. You wouldn't want everything to go soggy! This is what you do:-
Spread the puree on individual plates, leaving a wide margin
Add the marinated chickpeas in the centre, piled high.
Quarter the boiled eggs and arrange them at the side
Sprinkle on the crumbled cheese and sliced onion
Pour / spoon the Tahini dressing over the salad
Decorate with masses of roughly chopped flat-leaf Parsley
Serve immediately, accompanied by the flatbreads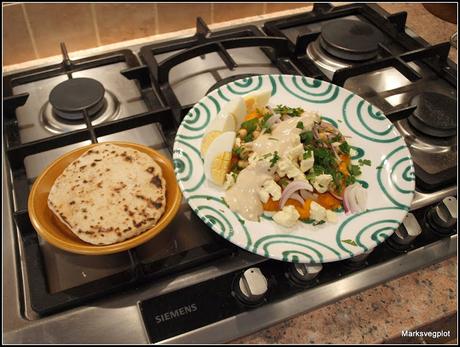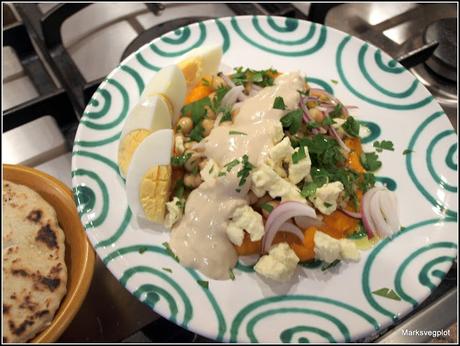 I was pleased with the result. The dish was fresh and uncomplicated, but with enough different colours, textures and flavours to keep you interested. Jane said she particularly liked the contrast between the sweet butternut puree and the tangy cheese. I hope my food idol Yotam Ottolenghi would approve!