Historical Romance/ Adult
by Julia Quinn
(Bridgertons #3)
PublishedMarch 2004
384 pages
This review doesn't contain spoilers!
*This book will be a prize of the Small Blogs, Big Giveaways event*
Blurb:

Sophie Beckett never dreamed she'd be able to sneak into Lady Bridgerton's famed masquerade ball — or that "Prince Charming" would be waiting there for her! Though the daughter of an earl, Sophie has been relegated to the role of servant by her disdainful stepmother. But now, spinning in the strong arms of the debonair and devastatingly handsome Benedict Bridgerton, she feels like royalty. Alas, she knows all enchantments must end when the clock strikes midnight.

Who was that extraordinary woman?

Ever since that magical night, a radiant vision in silver has blinded Benedict to the attractions of any other — except, perhaps, this alluring and oddly familiar beauty dressed in housemaid's garb whom he feels compelled to rescue from a most disagreeable situation. He has sworn to find and wed his mystery miss, but this breathtaking maid makes him weak with wanting her. Yet, if he offers her his heart, will Benedict sacrifice his only chance for a fairy tale love?
Read the first chapter here.

About the title:
An Offer From a Gentleman- What was the from Benedict( Bridgerton) ?

What I expected:
A retelling of Cinderella
What it was:
Much MORE. It's BETTER than the original Cinderella!
My Reactions:
LOVE, LOVE, LOVE!

My Thoughts :
An irresistible, loving an creative retelling of Cinderella. It's one of my favorite Bridgerton books , cause I love so much the hero AND the heroine! I wish they were part of my family! The scenes between them are a delight to read, I'd read this books again 100 times! A delicious and lovely story! I Have to say how much I love this cover, gorgeous!

MUST BE READ: If you like OR didn't like Cinderella's story. This will surprise you.
TO BE READ: Even if you didn't like the previous bridgertons books, cause this is different from the others.
NOT TO BE READ: Do you have Disney that much? Shup up and buy this book ASAP!

Worth buying? YEs, YES, YES!

Cover Art: 5/5
Plot: 5/5
Setting: 5/5
Writing: 5/5
Dialogue: 5/5
Originality of Plot: 3/5
Characters Development: 5/5
Ending: 5/5
Pacing: 5/5
Likelihood to Recommend: 5/5
Analytical Ratings: 48/50- Can't Live Without You!

SEXUAL CONTENT – I see fireworks!

SPOILERS AHEAD- The Duke and I Extras:
My Selection of Quotes (From Goodreads):
"It suddenly made sense. Only twice in his life had he felt this inexplicable, almost mystical attraction to a woman. He'd thought it remarkable, to have found two, when in his heart he'd always believed there was only one perfect woman out there for him.

His heart had been right. There was only one."
This is a compilation of the material avaliable on JQ's Site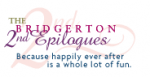 2nd Epilogue for An Offer from a Gentleman
Everyone deserves a happy ending.
Especially Posy Reiling, the decidedly not evil stepsister from An Offer From a Gentleman. She's been living with the Bridgertons for three years, but despite Violet's most fervent matchmaking, she hasn't found a husband. Posy claims she's content to remain a spinster, but Sophie Bridgerton has other plans…


Eagle-eyed readers will find mention of the Duke of Ashbourne and the Earl of Macclesfield (heroes of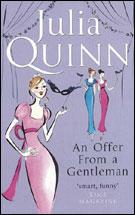 Splendid and Everything And The Moon, respectively) in one of Lady Whistledown's columns. Neither Alex nor Robert actually appears in the book, though.

It took a while to come up with a good title for this book. The most humorous suggested title came from the folks at Barnes & Noble, who suggested SOPHIE'S CHASE.

The shoe on the cover is a real shoe! I picked it out on a website featuring wedding couture and emailed the URL to my editor (who was married in shoes by the same designer!)

When I was in college, I had a teaching assistant from England whose last name was Crabtree. I liked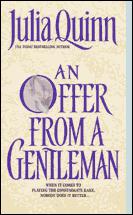 the name so much I decided to give it to the caretakers of Benedict's cottage.

All the terms and phrases in the fencing scene are correct and approved by my husband, who was captain of the varsity fencing team at Harvard. (He also fenced in the Junior Olympics!)

An Offer From a Gentleman received a facelift in September 2009 (see new cover above). The new cover is gorgeous—I just love the shoe on the steps! But while the cover may have changed, the words have not. The story is exactly the same as it was when released in 2001.
The UK Cover and the original cover from 2002.


Music that inspired Julia Quinn's writing, music that reminds her of her books: "I didn't always realize it when I was writing them, but each of my books has a soundtrack".
An Offer from a Gentleman"A Sorta Fairytale" by Tori Amos
Well, it is, isn't it?

"Standing Outside a Broken Phone Booth with Money in my Hand" by Primitive Radio Gods
For the life of me, I can't remember why I put this song in this list. But I love the song, and there's something about the melody that makes me think of this book.

"Whenever, Wherever" by Shakira
Lovers who never can manage to be in the same place. Plus, I never get sick of this song.

"The Mummer's Dance" by Loreena McKennitt
Such a gorgeous song, and so atmospheric. Wonderful background music for writing.


A New York Times bestseller! An Offer From a Gentleman was #14 on the NYT besteller list
(paperback fiction) for July 22, 2001.
Six weeks on the USA Today bestseller list, peaking at #15.
 Three weeks on the Publishers Weekly Mass Market bestseller list (mass market paperback), reaching #8.
 Bestselling Original Historical Romance of 2001, Waldenbooks
A featured Alternate Selection of the Doubleday Book Club and the Rhapsody Book Club
Also available in Large Print and as an e-book.
Have you read this book before? What did you think?
Unlike the other Bridgerton heroines, Sophie would not have had a stylish wardrobe until after she married, and even then she would not have had much use for fancy ball gowns.
I myself am not that crazy about the ornamentation at the bottom, but I think that after years in shabby clothing Sophie would have loved it.  This would have been just the sort of dress she'd have worn to entertain company at her home in the country with Benedict.