&appId;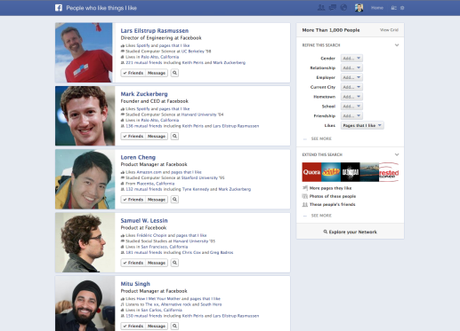 Photo credit: Facebook
What is Facebook Graph Search?
Examples of queries
Further reading
Yesterday, Mark Zuckerberg introduced Graph Search. As the whole social media world was buzzing with the news, I decided to wait until everything had calmed down a bit to conduct some research and see what people had to say about it.
In this article, I will give you a general idea of what Graph Search is, with links to articles that you might be interested in checking out.
What is Facebook Graph Search?
Something very different from regular (web) search:
Web search is designed to take a set of keywords (for example: "hip hop") and provide the best possible results that match those keywords. With Graph Search you combine phrases (for example: "my friends in New York who like Jay-Z") to get that set of people, places, photos or other content that's been shared on Facebook. We believe they have very different uses.
(Source: Facebook Newsroom)
Graph Search helps you find relevant information (people, photos, places, and interests) more easily and conveniently within Facebook. It follows your current privacy settings, which means that:
You can only search for what  has been shared with you
People will only be able to access your public content and the content that you have shared with them
Examples of queries
"friends who live in my city"
"software engineers who live in San Francisco and like skiing"
"photos of my friends before 1999″
"restaurants in San Francisco"
"cities visited by my family"
"languages my friends speak"
"books read by CEOs"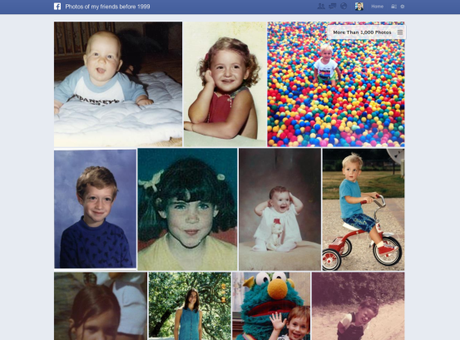 Photo credit: Facebook
If you cannot find what you are looking for, Bing will take over.
Now when you do a web search on Facebook, the new search results page features a two-column layout with Bing-powered web results appearing on the left-hand side overlaid with social information from Facebook including how many people like a given result. On the right hand side, you will see content from Facebook Pages and apps that are related to your search.
(Source: Bing Search Blog)
If you have a Facebook Fan Page, make sure your page is complete and up to date:
The name, category, vanity URL, and information you share in the "About" section all help people find your business and should be shared on Facebook.

If you have a location or a local place Page, update your address to make sure you can appear as a result when someone is searching for a specific location.

Focus on attracting the right fans to your Page and on giving your fans a reason to interact with your content on an ongoing basis.
(Source: Facebook Studio)
Graph Search is in beta right now and only available in English and to a limited number of users. Interested in trying it? Sign up and you will be put on the waiting list.
Further reading
Facebook Graph Search a useful resource for journalists by Anthony Carranza (Examiner.com)
Will The Facebook Graph Search Change Social and Search? by Lisa Buben (Inspire to Thrive)
What Local Search Looks Like in Facebook's New Graph Search by Matt McGee (Small Business Search Marketing)
How The New Facebook Search Is Different & Unique From Google Search by Danny Sullivan (Search Engine Land)
What are your thoughts on Facebook Graph Search? Could it be a Google killer?
Thank you for sharing!