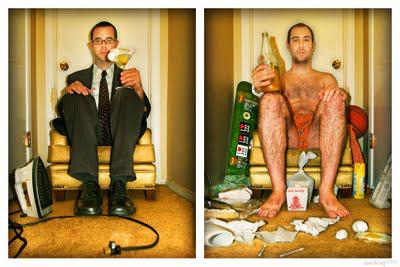 Pelski: Hi Justin and Christian, firstly could you tell us a bit about 
The Martin Brothers and how it differs from both of your solo aliases?

Christian: I approach my solo releases and Martin Brothers tracks the same way – I want to create music that's fun, hits hard in the club, and evolves from beginning to end. When I'm working with Justin, I think we've gotten that process almost down to a science – we can run through ideas and options at a pretty fast rate, getting from concept to banger in just a few days.
Justin: I agree. I definitely work a lot faster when I am in the studio with Christian. We both like heavy hitting music that is fun and full of surprises, and of course has some serious low end. The music we make together usually explores a lot of our different influences as well, from hip hop to drum and bass. I don't know that a Martin Brothers release differs too greatly from a solo project because in the end we are both just trying to make quality music for the dance floor. Sometimes its just more fun to get together and join forces on an idea.
Pelski: What were your first experiences of music?
Justin: We both grew up in a very musical household, and our parents had me and chris taking piano lessons from a very young age. When I was in 4th grade I switched to the saxophone as my main instrument and chris stuck with the piano, and we both studied and played jazz for the majority of our youth. Our dad had a killer stereo system that he would blast everything from classic rock like Pink Floyd and Led Zeppelin to classical music. I would say that thanks to our parents our musical tastes are very widespread.
Christian: My parents got a piano when I was very young – I sat down and plonked out the American Airlines theme song. My parents freaked because my mother had just started working for AA. I started piano lessons very shortly after that.
There's certainly some hip hop influences in your tunes. What was it 
that pulled you both towards electronic dance music?
Christian: I still listen to hip hop all the time – it's a huge influence on my style. I love the minimal aesthetic of artists like E40 – snaps, claps, hi-hats, a vocal sample, and killer 808 is all he needs. Keeping tracks free of musical clutter is very important to me. As far as the pull towards electronic music - hip-hop is a more personal experience, something I enjoy listening to in a car or while travelling. I was attracted to electronic music for the social aspects – raves / clubs / desert parties are all long blocks of time, more about dancing and socializing than watching someone on a stage.
Justin: I am addicted to watching hip hop videos.
Justin you released 'The Sad Piano' all the way back in 2003, it was a 
somewhat deeper track than the jumpy, dirtier house you're making these 
days. What made you change direction?
Justin: Well Sad Piano was one of the first tracks that I ever made… I didn't really know what I was doing when I produced that, it just sort of came from my heart… While all of my music still comes from my heart I think that over the last few years I have really started to hone in on what works on the dance floor. I am always trying to push my sound more and more creatively but I'll admit I often think about trying to recapture the feelings of that record and just make another simple track with a nice melody from the heart.
 

You certainly both have a healthy penchant for bassy house!
Christian: Some of my first clubbing experiences were drum & bass nights. Hearing dnb on club soundsystems was a turning point in my taste as far as what I wanted to hear and feel in my ribcage. Since I started producing tracks, bass has always been the first thing on my mind.
Was there a turning point for both of you, when you knew things were 
looking good, "yeah we can make a good living out of this now?"
Justin: I never once looked at it that way...I mean, it has always been a goal to make a living doing what I love, but for me there really is nothing else I want to be doing at this moment, so regardless of whether or not I am making a "good living" I would still be doing what I am doing.
Christian: When I was officially signed to Liason Artists (formerly Blue Collar) I realized that I had a great opportunity to travel and develop my craft .. but I think if you're complacent, you're already done. Signing to Liason was just the beginning.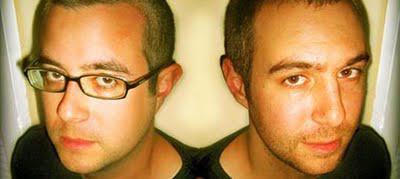 Is there any brotherly competition between the two of you?
Christian: I think the most competition we have is when we both want to play the same track at a show. Compromise is the key though – there's enough great tracks these days that we can both play what we want, just by communicating and planning out our sets.
Justin: Yeah, obviously we both have similar tastes in music… So I have to call "dibs" first in order to be able to play a song I know we both love. But if it's a show we are playing together as Martin Brothers it really doesn't matter which one of us plays what. That only really happens when we are playing separate.
 

Christian, I read somewhere that Justin said you were the real 
crate-digger between the two of you, with a knack for finding unknown gems 
and dance floor weapons. Now that you're popularity has gone through the 
roof do you still set aside time to root around for the good 'uns?
Justin: OH YES! Without a doubt we are both on a constant search for new dope tracks. There is such an abundance of mediocrity out there so there is nothing like discovering something new that just blows my mind. I am always on a hunt for gems, and it is awesome that I have someone so close to me doing the same. My brother has a different ear for music than I do which is great too because he will hear things in tracks that I may have normally passed right by, and vice versa. But we both agree that quality is key, and finding and playing that dope secret weapon is what makes our jobs so much fun.
Christian: I have a pretty wide net bringing great music in - from various promos, friends, and producers I respect from around the world. I discover bomb tracks on Beatport all the time, simply by following my favorite producers to their labels, then checking out that label to find a whole other network of producers and labels. It's a never-ending hunt.
Although similar, both of your production styles are 
quite distinctive in their own right. When you get in to the studio 
together do you have an differences of opinion? (sorry for the potential 
shit-stirring, I'll stop this line of questioning soon..!)
Justin: I think we are both pretty open minded to each other's ideas when we are in the studio… the common goal is to make something different and seriously fresh. I know I value Chris's opinion very highly, so if he is adamant about changing something we can always find some compromise that makes us both happy. I think we are pretty well aligned in our tastes, and I love working in the studio with him because it is really exciting for me to see what we can come up with… its also quite fun.
Christian: Our differences are what takes our music in cool directions – we don't really butt heads about creative decisions. It's more about keeping the work flow going, finding solutions and staying focused. If we're both making bass faces and bouncing around in our chairs, we know we're on the right track!
You've both been heavily involved in the Dirtybird label. How did you 
meet Claude Von Stroke and get all that going initially?
Christian: I met Claude in 2000 – I was working on a hip hop video, he was working at a post-production studio we used to create the final product. Back then he was producing really heavy drum n bass, and we hit it off right away. When he created his seminal DJ documentary "Intellect," Justin contributed a bunch of his new tracks to the score. The label came about when Claude decided to follow the advice he'd learned when creating the documentary. By that time we had already started our Birtybird BBQ in Golden Gate Park - it just made sense for Claude to name the label dirtybird as well. 
 

Do you still play a role in the running of the label?
Christian: Just moral support! Ultimately it's Claude's vision. Contributing music to such a quality label is enough involvement for me.
Dirtybird's always been popular with the blogs. Did you ever have any 
problems with piracy and free copies of the label's releases floating 
around the internet?
Christian: There's always going to be piracy, it's just a matter if you choose to look for it, or if you choose to support the label. As long as people still want to spend money on vinyl and wavs, Dirtybird will live on.
Justin: I try not to think about that stuff or worry about it… If people are downloading my music and digging it then I am happy.
 
You've been signed to the new Jackmode label in Berlin which sounds very 
exciting. Can you tell us a bit about that?
Christian: I'm excited to bring my sound to the Jackmode label! It's been an honor to be affiliated with them as a booking agency - every Jackmode party I've played has been awesome. My music for the Jackmode label will be an encapsulation of that wicked party vibe – whether it's techno, house, or something else.
Justin: Yea, its very exciting for me as well… they are such a great group of people and artists… it is an honor to be working with them all, and the Europe shows have all been amazing since I started working with them.
There's been some discussion lately on the divergence between the 
Eruopean and US house/techno scenes. Do you see a big difference between 
the two? How do you see the American dance music culture in contrast to 
the European one?
Justin: I used to think that the US was pretty dismal for dance music compared to Europe… and while I think Europe is still at the forefront, I feel like North America has really stepped it up in the last few years… Its hard for me to knock the US when I live in one of the most amazing underground electronic music cities in the world: San Francisco! And with tons of other US cities being put on the map by local djs, promoters, and thriving underground scenes, and festivals like DEMF becoming so popular I feel like there is definitely hope for us.
Christian: I think Europe has an advantage over most US cities because the hours of operation are so much longer, and the alcohol policies aren't as severe. However in recent years the US has adapted and thrived, the dance scene here is as strong as I've ever seen it. It all comes down to the promoters passion in each city, and whether you can click with their vision when you visit. SF, Portland, Denver are always great for me, and I love visiting Detroit for DEMF weekend. Even Miami was fun this year!! :)
Could you both give us your Top 5 tracks at the moment? Or any artists 
we should be keeping our eye on?
Justin: My current top 5 is very confidential… hehe… but I would definitely keep an eye out for Ardalan in 2011… his sound just keeps getting better and better and he has some amazing ideas he has been cooking up in the studio.
Christian: I can't reveal my top 5 but I will say that I buy almost everything put out by Maetrik, Sei A, DJ Koze & Robag.
Justin your 2010 collab with newcomer Ardalan resulted in one of the 
biggest dancefloor bombs of the year Mr Spock. How did that come about?
Justin: Ardalan was a friend of my girlfriend who I met at a Dirtybird BBQ… as me and Ardalan became closer friends I realized that he had some serious talent. He sent me a few of the tracks he was working on and one of them was a rough version of Mr. Spock.. I simply did some minor tweaks, trimmed it down a little bit, looped the best parts, and mr spock was born.
 



What can we expect from your set on 23rd April?
Christian: A lot of bass, and a lot of fun.
Justin: Yes! Bass and fun!
 

Finally, other than the Jackmode stuff, do you have any 
projects/productions on the horizon?
Justin: I am officially working on my first artist album for Dirtybird Records. I attempted an album a few years ago for Buzzin Fly, but i just never could complete it… I feel like I am more focused than ever before now and this time around I am determined to MAKE IT HAPPEN! It will be out in the fall of this year, and I am so excited about the new stuff! I cant wait to unleash it!
Christian: I'm working on EP's for Dirtybird and Night Slugs – 2010 was all about remixes for me, so 2011 is all about originals!! 
 

Well thanks Christian and Justin for taking the time to answer our 
questions, we eagerly await your set at Crucifix Lane on 23rd April.




Jackmode vs Pelski present The Martin Brothers + guests
BUY TICKETS HERE


@ 7-9 Crucifix Lane, London




Tube station: London Bridge




23rd April 2011




10pm - 6am