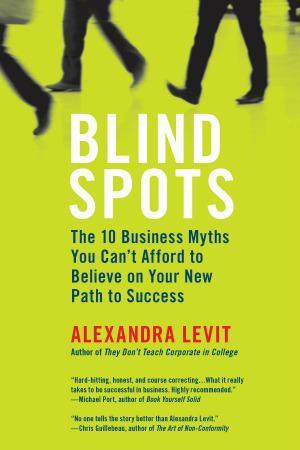 There are a few people who really got me interested in writing about career and young professional-related topics: Dr. Debra Condren (Ambitious), Christine Hassler (20Something, 20Everything) and, of course, Alexandra Levit.  I was excited when I heard Ms. Levit had a new book coming out and this book, "Blind Spots", seems like it will be her best book yet.  Here are some questions answered by Alexandra Levit herself! Check out Blind Spots on Amazon today! -Nicole
What is the gist of Blind Spots?
I went in search of the 10 biggest myths of business success that people believe to be true even though they don't work for 98 percent of all truly successful people. The time to debunk these myths is now because they are more dangerous and less viable than ever given this post-recessionary climate of ethical scrutiny and intense competition. Blind Spots teachers readers to throw away the myths, determine what will work in their place, and immediately put it to use.
You've written a lot in the career space. Why this book?
I was tired of reading silly theories and platitudes dispensed by business and career authors who sell their work by giving these myths credibility and by telling readers what they want to hear. I wanted to be honest with people about what will render them successful in today's business world, not yesterday's. I wanted something out there other than overly provocative advice that hasn't worked for anyone I know, like quitting your job tomorrow and starting your own business the next day, or marching into your boss' office and announcing that he should appreciate your individuality.
What is the most widespread business myth in your opinion?
Overnight success is the first myth I debunk in the book because it's one of the most widely held beliefs. It's also hugely misleading, and adopting this idea that you can easily become an overnight success could actually be quite damaging for your career and life. The truth is simple. There are very few – if any – genuine cases of overnight success. The majority of successful people have dedicated themselves to a goal and persevered for a long time, experiencing several setbacks before reaching a high level of achievement that is finally noticed and talked about by others.
What is the biggest challenge modern employees face today?
The greatest obstacle is finding meaning in their work – up to 80% of the employed are currently unhappy with their jobs. This dissatisfaction can be an opportunity because it prompts you to take action to learn a new skill or take on a new project through your job or volunteer work. People have to remember that finding one's passion takes time and a lot of exploration, and you have to be motivated to undertake that journey. I hope that Blind Spots helps a little with that motivation!
Check out Blind Spots on Amazon.