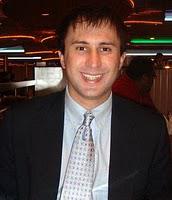 Adam Blitzer
Probably one of the most used products by us in our day-to-day lives and especially while travelling is bags. There are all sorts of bags and it's an ever growing and ever changing market. Entering this rather competitive market is Adam Blitzer of The Worton Group, LLC. Adam is an avid traveler and an entrepreneur with his new company Blue Claw Co. recently entering the market with their signature bag Worton Weekender. Not letting go of a chance to interact with an up and coming designer, I went ahead and asked Adam a few questions about his company and what inspires him.
What led you to designing, especially bags? What has been your biggest motivation and inspiration?
I started designing in the fall of 2010 while living in South America. I have always been an avid traveler and after my carry-on suitcase that I had been using fell apart in a remote pueblo in Southern Argentina, I realized the importance of quality, durable luggage. I was ready to make a significant investment in my next bag but, to my dismay, I was unable to find the 'perfect bag' that I was envisioning.

 

I started drawing some concepts on paper while abroad and upon returning to the US in November 2010, got serious about how to manufacture the bags by reaching out to some contacts in the industry. As I am somewhat of a minimalist, simplicity is an important mantra of mine. You'll notice that my collection is very modest, timeless, and elegant.
Being a young, up and coming, designer, how hard has it been for you to make a mark in this competitive world?
The odds are certainly stacked against me, especially when I produce domestically. Many of my peers said it was impossible to start a new luggage line. I started small, only building a few bags at a time to test the market. People loved the style and sophistication of the bag and asked for more.

 

I believe it's very important to develop a loyal fan base when developing a new brand. I have conversations with all of my buyers and listen to their feedback to continue to develop alterations of my products to make them even better. Trying to break through as a young designer has proven to be difficult however I am up for the challenge. I learn something new everyday and running this Blue Claw Co. has given me exposure to all facets of running a business – experience that I have no doubt will prove to be invaluable.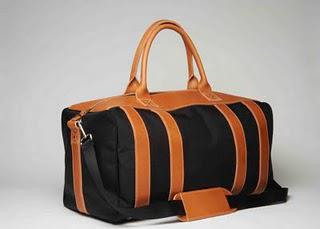 Blue Claw Co.'s Signature Product - The Worton Weekender

Tell us a little about your signature product? Why is it special?
My signature product is the Worton Weekender. The Worton Weekender was my first creation and was inspired by my trip to South America.

 

It took the longest to develop and manufacture, as I was still learning at the time, and continues to be my best seller. The bag is the perfect size for a long weekend with plenty of space for clothes, shoes, toiletries, and a house-warming gift (I typically bring a bottle of wine.)
Recently, the luggage industry has exploded with weekender bags on wheels. I felt that adding wheels took away from the simplicity and style of the bag. It truly is the perfect bag for a weekend – to toss in your car or to wear it across your shoulder in the airport. Adding wheels just didn't feel right.
What truly differentiates the bag from other competitors are the high quality materials that I use: The leather is thick, extremely durable, and is built to last a lifetime. The shell of the bag is made out of military grade ballistic nylon to prevent ripping. The most unique aspect of the bag though, is the interior lining; I use a waterproof liner so the contents are protected from the outside elements (or occasional spill in the overhead compartment of a plane). Finally, the bag can fit into small regional jet overhead bins, eliminating the need to check the bag at the gate.
How has Twitter/Facebook and other social networking sites helped you? How important do you think these sites are in this day and age?
Twitter has been critical for gaining exposure and without twitter Blue Claw Co. would still be in its infancy. The connections that Twitter has afforded me to create are incredible. Just last week I shipped a bag to ESPN's very own Erin Andrews - a connection I made through Twitter. For a young brand without a brick and mortar, social media allows me to create a following globally. I remain heavily engaged on Twitter and interact with all of my followers. As I mentioned above, using Twitter as a 2-way conversation between Blue Claw Co. and my fans has been priceless: I elicit feedback from purchasers or prospective purchasers, answer questions ranging from travel to my manufacturing process. I believe this has helped consumers understand my new brand and quells any concerns they might have about purchasing from a lesser-known name.

  
Tell us about yourself a little? Your aim in life specially with regards to your company?
I have always considered myself an entrepreneur. I started my first company when I was 13 and sold it when I was 15. This was during the good ol' days of the skateboarding craze. My buddy and I melted down massive amounts of wax, added color and scent to them, and distributed them all over Philadelphia at skate parks and other venues. It was a blast. I learned a lot about business and have continued to pursue ventures ever since then.
My goal with Blue Claw Co. is to continue to build the finest luggage here in America. I want to create only what people want and I use Twitter to ask my followers what they are interested in.
How important is traveling in your life? As a designer, does traveling to new places gives you opportunity to find inspiration?
I caught the travel bug at a very young age. I have been to every continent except Australia and Antarctica. I have lived outside of North America for almost two years, a majority of that time in Spain and Argentina. I enjoy all aspects of traveling and the experiences that I have gained through travel are priceless. When you travel you observe someone else's culture. I have found that absorbing that culture has been extremely inspirational. When I travel I try to do as the locals do; I eat the local food, drink the local beer, go to the local hotspots, speak the language if its Spanish (I am learning Portuguese currently), all in an attempt to see the purest form of life in that country.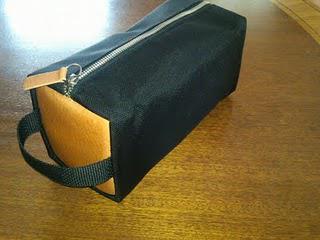 Sneak Peek at the soon to be released Dopp Kit
At present you are an "all American" brand, but do you plan to go international anytime soon? How can someone overseas order one of your products?
Blue Claw Co. is an American company as far as production is concerned, but as a globetrotter, I want the business to be global. I will be heading to Sao Paulo, Brazil in the coming weeks and will bring down a few of my bags to test the waters. From the start I decided to focus on e-tailing as opposed to brick and mortar retailing so that I could easily sell internationally. I have not sold anything overseas yet, but I am excited to see that order come through.
Who is the target buyer of your bags? Are they aimed only at the travelers or do they cover a wider range?
The bag was designed with the working professional in mind but it's really for anyone who demands simplicity, durability, and elegance. The entire line is built for extreme conditions, but not exclusively for travelers. Everyone needs a bag or a dopp kit! Our dopp kit has been a great success, and in my opinion it is the highest quality dopp kit on the market and is an extreme value at $50. Too many people tell me they could fetch $75-100, but my father always told me, "Every man needs a dopp kit" and I think it should be reasonably priced.
Tell us in short the process of making a bag from the time you are inspired to actually holding the bag in your hand.
I always keep a notepad with me to sketch a design down when it comes to me. I literally sleep with a notepad on my nightstand if something comes to me in a dream. I'll look at it a few days after and then decide if I want to pursue it. Once I determine if the bag is viable,

 

I go to my swatches and see what materials to make the bag out of. This process can take quite a while as materials are the key to a perfect bag. Once I have the materials selected, I go back to the swatches and analyze colors. Once the materials and color scheme are finalized, I make a sample of the bag. Here I can see the bag come to life, I can see how the material looks, the structure of the bag, and what it is missing. I show a group of my close peers the sample and let them give me their unfiltered opinion. The feedback that I receive usually results in me creating another sample taking into account their suggestions. Once my second sample is created, I show the bag to a slightly larger audience and gage the reaction (maybe I will use Twitter for the next addition to the Blue Claw Collection.) If it is positive, I go into production. Production, depending on the size of the bag can take between a week and a month. All items are handmade one at a time.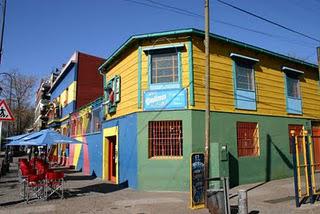 Boca District, Buenos Aires - "Immensely inspiring" for Adam
Lastly, is there anything you would like to tell us about yourself and/or your company that we might not already know?
Do not be afraid to do the unconventional. I turned down jobs in corporate America to develop Blue Claw Co. I caught a lot raised eyebrows when I told friends and family that I would not be accepting a 9-5 and would be pursuing a luggage line. If you have an idea, believe in yourself and go for it!
In the end I would like to thank Adam for taking out precious time to answer our questions. Adam can be contacted through his website The Worton Group and is ever present on twitter via @blueclawco