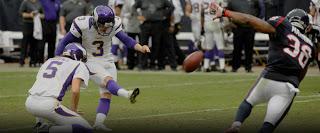 The amazing Minnesota Vikings pulled off an incredible 23-6 win over the playoff-bound Texans in Houston today. And now they are in a prime position to grab a Wild Card berth next week.
Incredible, especially since their ninth win of 2012 matches their combined win total for 2010 and 2011.
Adrian Peterson did not have a record-setting day, but did rush for 86 yards. It ended his streak of seven straight 100-yard games. Right now he is sitting on 1,898 yards, 207 yards from Eric Dickerson's single-season record, which he did for the Los Angeles Rams in 1984.
The Texans opened the game with a field goal, but the 3-0 lead was the only one they had on the day. The Vikings drove down the field and scored on a 3-yard TD from Christian Ponder to Kyle Rudolph. Ponder had a pretty decent day, going 16-for-30 for 174 yards and 1 TD. He also rushed for 48 yards, which was 14 yards than Houston had as a team.
The Vikings defense was excellent, allowing Houston just two field goals. They also had a terrific goal line stand in the third quarter. The Texans had it on the one yard line on first and goal, and settled for a field goal. The Vikings dominated, on both sides of the ball.
It was an historic day for Vikings kicker Blair Walsh, who has had an amazing rookie season. Walsh connected on a 56-yard field goal in the second quarter, which tied the Vikings team record for the longest FG ever. It was also his ninth FG of 50 or more yards, a new NFL record.
The 23-6 win left the Vikings with a 9-6 record and at this moment have the final Wild Card berth in the NFC. Seattle is at 9-5, and Chicago is at 9-6, as they won in Arizona on Sunday. If the Vikings win against Green Bay next Sunday, they will finish at 10-6 and get a postseason berth. If they lose, they will need help to get in. Here's more from The Daily Norseman on the Vikings ' playoff chances.
But of course, all eyes will be on the great Adrian Peterson, as he is within sight of one of the NFL's great single-season records.
It should be a fun day in the Metrodome to conclude 2012 next Sunday.