The crowd was silvery-haired, young and old, but that did not stop them from rocking out to "An Evening with Lindsey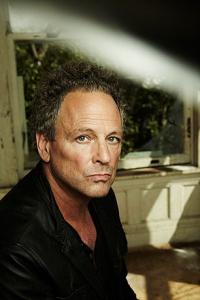 Buckingham" Sunday night at the Verizon Wireless Theater in Houston, TX.
The Fleetwood Mac guitarist opened the night with Shut Us Down from Buckingham's 2006 release Under the Skin – a nice subtle opener minus the bells and whistles of his backup band. Buckingham then quietly launched into his 1984 hit Go Insane. Go Insane, stylistically-speaking,  is an almost-homage to his music he made in 1973 with then-girlfriend Stevie Nicks on their album Buckingham Nicks.
Lindsey is like the antihero rockstar. He's an underrated but nevertheless extremely gifted guitar player, vocalist and songwriter. He proved this when he launched into the Fleetwood Mac classic Never Going Back Again from the ever-popular Fleetwood Mac classic album Rumours. Buckingham sings with such beauty and emotion it's almost like he cries through the song. This has the audience eating out of his hands.
Buckingham lamented during the night about how, as a child, he learned how to play the guitar by listening to his older brothers' record collections.  
The true highlight of the evening was when Buckingham started performing an acoustic version of the 1987 mega-hit Big Love. However, before launching into the performance, he explained the meaning of the song: that it has become an echo to him because it was where he was in life during the writing and making of the song.
However, the evening really took off when Buckingham's backup band took the stage for such songs as In Our Own Time and Illumination. Everyone in the audience loved Buckingham's rendition of Tusk and even chanted along to the ever-popular chorus.
Buckingham ended the night with 2 encore performances:a high energy performance of Treason from his 2008 solo effort Gift of Screws and the title track of his latest album Seeds We Sow. The latter was like a message of hope.