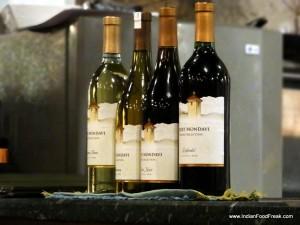 Wine enthusiasts are still few in India and it is not surprising to see the current low penetration and volumes of wine. One of the key factors that have constrained wine growth is the heavy taxes that are levied in India. One institution that has done well to popularize wine is Delhi Wine Club, led by Subhash Arora. Subhash is both the founder and President of the club. It is at his invitation I am at French restaurant, Rara Avis to attend his club's 219th wine dinner and the third this month.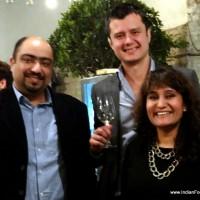 This is not my first visit to Rara Avis, and I always wanted to come back in slight winters to enjoy the open terrace facing the park greens at GK Colony. And this was that opportunity. I have just completed my WSET-II course in wine appreciation, and I was looking forward to the evening to enjoy my wines with much better understanding of the nuances. Robert Mondavi, a California based wine company is the wine that members have assembled to taste this evening. Fortunately Joe Milner, Regional Manager, Constellation Brands from Hong Kong also joins us at the occasion.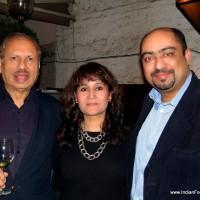 My fear of being amongst bunch of strangers was unfounded. I soon have my friends, Lavina and Avininder Singh accompanying me at the table. The first wine is Robert Mondavi's Sauvignon Blanc 2010; a light citrusy, crisp with pear notes wine to start the evening. I have never been very fond of Chardonnay, but I like the creamy and acidic flavors of Robert Mondavi's 2010 collection.
The appetisers are rotated at a slow frequency of which mini pizza is a delight. At a French restaurant least I expected is better quality of breads, where Rara Avis completely disappoints.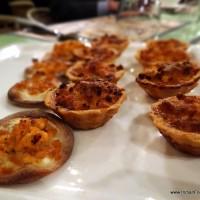 Sipping on some good wines, I make it a point to connect with other members and soon many become friends. I especially love the conversation with Dr Tushar Roy, who happens to be a heart specialist and has kept pace with latest IT developments in medical technology. While he respondss to one of the whatsapp Cardiograph, I cannot resist asking him few health queries which he happily responded. Never earlier in my life I have seen a doctor with so much patience and led by purpose of spreading health rather than commercial objectives. This in itself made my visit worth, but I said it too soon. There are many more interesting wines to follow.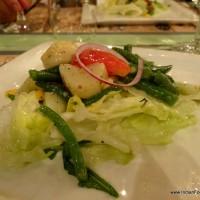 French Onion soup starts our meal and I like the caramelized flavours of onion for which dish is known. I have never tasted a veg Nicoise salad, but then there is always a first time. The veggies are crisp and fresh but my plating miss few elements that are present in others plate, especially the corn…not that it would make it taste any better.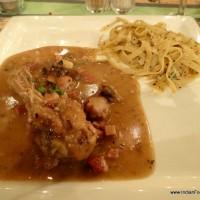 In the main course, I share my platter with Lavina and get to taste both Basa Fish in lemon butter and traditional Coq au Vin where latter is a winner hands down.  This meal is accompanied with Pinot Noir and Zinfandel. I am fond of Pinot Noir and Robert Mondavi 2010 continues to delight with its full body and intensely fruity character. In Robert Mondavi's Zinfandel flavors of dried prune, raisin and blackberry are pronounced.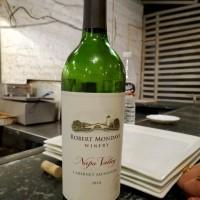 The surprise element of the evening is last to come. Cabernet Souvignon 2010, which Joe especially bought with him from Hong Kong was the star of the evening, which delighted with its spicy oak elements. I especially eyed those two bottles which are won in the lucky draw by two fortunate members. With excellent camaraderie, some 'great' food and excellent wine pairing, this is one of those events I shall love to go back to, may be at a different venue.