Despite my train disaster I arrived in Munich in time for a late dinner with Katie, who is in town from Berlin (where's she's living for three months) for an audition.  Katie's in the midst of the opera singer's right of passage known as "The Germany Audition Tour".  Because of the sheer number of opera houses in Germany and the fact that they are supported by the state, it has long been the conventional wisdom that there are more opportunities in Germany, and that singers starting out should head over there in search of a "fest" (full-time position with a single company) contract.  These contracts provide steady income and valuable experience, usually including a variety of roles.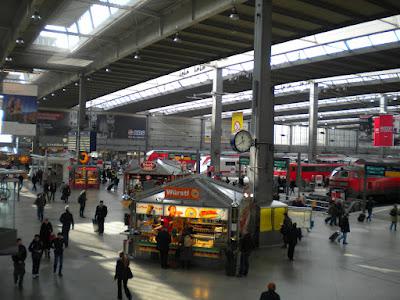 Munich's Hauptbahnhof (main train station), which smells of delicious baked goods.
Alas, the "go to Germany and get a job" route is not as easy as it used to be, and it was never really easy.  Ever since the fall of the Berlin Wall and the opening up of
Russia
there has been a flood of singers from the former Soviet countries.  There are also new EU regulations which make it more difficult for companies to hire outsiders.
So Katie is still waiting for her shot.  She's taking the experience in stride and trying to learn from the comments she gets from the agents.  I remind her that this isn't the only way to a career; I auditioned in Germany after I'd already been a soloist at the Metropolitan Opera and got nowhere.  I've sung in Switzerland, France, the Netherlands, and Japan, but never in Germany. Go figure.  There's so much luck involved in a singing career. You do have to have the goods, but you also have to be in the right place at the right time.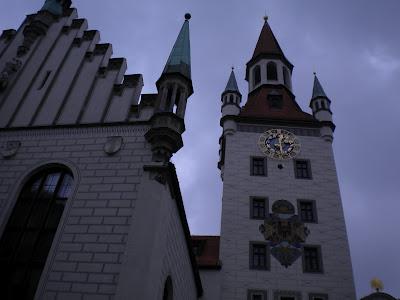 Marienplatz, Munich
After asking the receptionist at Hotel Meier (where I was staying, so close to the train station even I couldn't get lost) where to eat, and being told that at 8:00 Saturday evening we'd be lucky to get in anywhere, we stopped at the first place that looked like a restaurant.  It turned out to be the rather well-known Augustiner Restaurant und Bierhalle.  Augustiner is  the oldest Bavarian brewery, in business since 1328.  Their beers, which are made in accordance with a Munich 1516 "Purity Law", come in several varieties including the Weissbier which is a staple of the region. The restaurant, with a prime location between Marienplatz and Stachus, seems to be popular with locals as well as tourists; we were seated at a table with a German couple.
I wanted to try something different (to take a break from Schnitzel and Wurst), so I went for something  called (if memory serves) Scwabishe Metzger Maultaschen.  It was a dumpling roll stuffed with something like bacon, served with potatoes and sauerkraut. It was a bit salty for my taste, and I think I've reached my saturation point with pork products. Katie had the Sauerbraten (roast beef in a sauce made with vinegar), which was a bit tough but tasty.  We drank Radler, a combination of beer and lemonade that isn't as bad as it sounds. (I think it's actually lemon soda ( 7-up ) rather than lemonade, because otherwise it would be rather flat.)   Beers in Munich are so huge that I knew if I drank a whole one I'd be drunk. We also ate a couple of the pretzels which were at the table in lieu of bread. ( It turned out you had to keep count of these and pay for them.)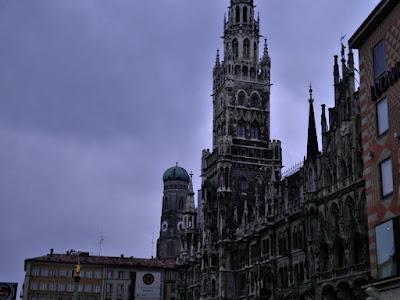 Munich's Rathaus with one of the domes of the Liebrauenkirche in the background.
After dinner we walked around the center, passing the Rathaus (Town Hall), Karlstor and Marienplatz.  We agreed to meet the following evening for dinner, after she'd had her audition and her fill of museums and I'd spent the day with my college friend Mark, who did his German audition tour about 25 years ago, got his first "fest" contract at that time, and has been living and singing in Germany ever since.