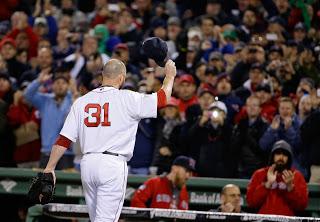 The Red Sox scored early and often to open the 109th World Series on Wednesday night, and coasted into an easy 8-1 win at Fenway. I took in at Duke's, in Midtown Manhattan with many of my pals from The BLOHARDS.
It couldn't have been a better night for the Sox. Jon Lester was dominant, pitching 7 2/3 shutout innings. He pitched out of two jams, striking out eight and walking one. It was Lester's third postseason win of 2013, with a career 2.07 postseason ERA in 10 starts.
The Sox scored three in the first, capped off by Mike Napoli's bases loaded double. It was aided by Pete Kozma's error on a possible DP ball hit by David Ortiz. Kozma clearly had the ball relayed by Matt Carpenter hit off the tip of his glove, but Dana DeMuth, the ump just a few feet away, called Dustin Pedroia out. It was originally an horrific call, but the umps got together and properly reversed the call, svaing DeMuth further embarrassment.
The Sox had the bases loaded again in the second with one run in on Dustin Pedroia's single, and David Ortiz hit a towering shot to right that Carlos Beltran grabbed before it landed in the Cardinals bullpen. It was a great catch and a sacrifice fly, but Beltran hurt a rib slamming into the wall and left the game. His status for tonight is not yet known.
Papi got his revenge for the catch by blasting a majestic home run in the seventh, over the Red Sox bullpen that made it 7-0. Xander Bogaerts' sac fly in the 8th capped the night for the Sox.
It was a terrible night for the Cardinals. Not only losing Beltran, but they made 3 errors, let a pop up between Adam Wainwright and Yadier Molina drop for a hit, and couldn't a clutch hit when they had two golden opportunities to get back in the game. Only Matt Holliday's home run off Ryan Dempster in the 9th kept St. Louis from being shut out.
After all the tough nail biters in the postseason, it was pleasure to have an easy win for the Red Sox to open the World Series. Three wins to go, and John Lackey will go against Michael Wacha tonight in Game 2.