Ma came over for lunch on Friday…
Oh yes that is a big deal! Don't get me wrong. I am a good daughter. I do see my Mother about twice a week at least. Since it's more convenient, I end up doing most of the visiting. We tease her that she visits my sister, who is in a different country all together, more often in a year, than she comes over to ours! And we are in the same city! Yes the Bombay traffic is awful & with an hour & half journey one way, we might as well live in different towns… but she could do better than drop by once in 6 months!
Anyway, Ma decided to come over for lunch Friday (Yay!). Since it had been a while & with Mother's Day right round the corner, I wanted it to be special. It is unbelievably hot in the City, so she requested something light & simple.
So here it is, a light, simple yet special menu for Ma on her special day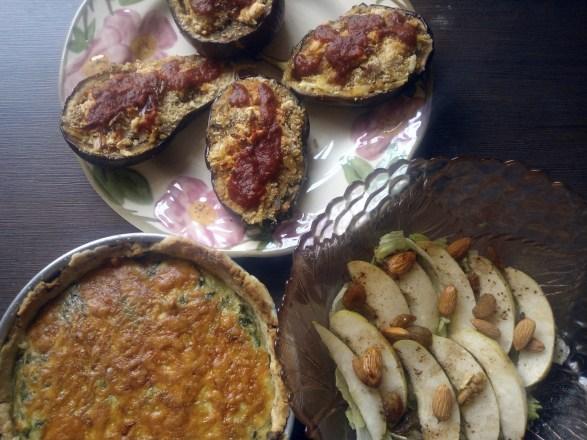 Pear & Nut Salad
Eggplant Boats
Spinach & Cottage Cheese Quiche
Pear Salad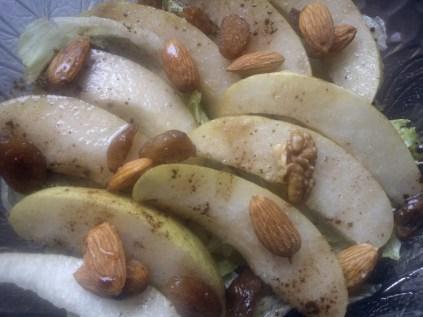 Ingredients
1 firm Pear (cored & sliced)
Mixed Nuts & Raisins
Honey
Apple Cider Vinegar
Cinnamon
Olive Oil
Salt
Iceberg Lettuce
Method
Arrange the pear slices on a bed of lettuce.
Sprinkle the nuts & raisins over it.
Whisk all the ingredients for the dressing together & drizzle over the salad just before serving.
Serve it chilled.
Eggplant Boats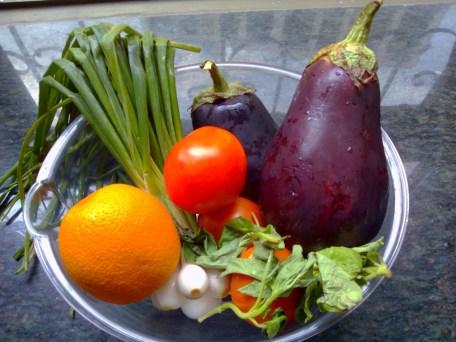 Ingredients
1 Eggplant
2 Tomatoes (diced)
2 Spring Onions (finely chopped)
zest & juice of 1/2 Orange
3-4 cloves Garlic (minced)
Basil
1/4 teaspoon Ajwain / Marjoram
1/4 teaspoon Jeera / Cumin
Chilli Powder
5-7 Black Olives (chopped)
Salt
Olive Oil
Bread Crumbs
Cheese
Bottled Tomato Pizza / Pasta Sauce
Method
Slice the eggplant lengthwise into 2 halves. Carefully scoop out the flesh, leaving the exterior intact. Place the eggplant halves face down in salt water & chop up the scooped out eggplant.

 Heat oil in a wok & add the 

jeera & ajwain. 

When the spices start sizzling, add the garlic & onions. Saute till brown.

Toss in the eggplant, tomatoes, olives, orange zest & juice & stir fry till cooked.
Season with salt & chilli powder. Keep aside.
Pat dry the eggplant boats & lightly rub the skin with olive oil. Place on an un-greased baking tray.
Fill each boat with the cooked eggplant & tomato mixture.
Sprinkle the boats with bread crumbs & cheese.
Cover the boats with aluminum foil & bake in the oven at 180 C for 25 minutes. Uncover & bake some more for about 15 minutes.
Warm the pizza/pasta sauce & pour over the eggplant boats before serving.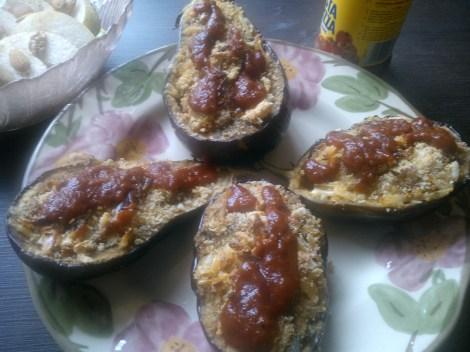 Spinach & Cottage Cheese Quiche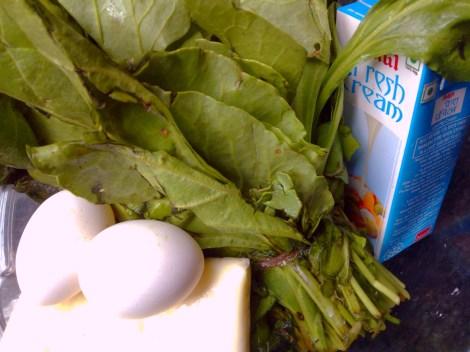 The Quiche was inspired by 2 chefs Rachel Allen & Jamie Oliver. I am an avid watcher of Food Shows on TV. If I don't have the time, I record them & then watch them back to back! During a couple of these marathon TV watching sessions, I saw that with a few simple additions, the 2 chefs transformed the quiche to something else!
Jamie Oliver added Parmesan Cheese & Rosemary to the pie crust & Rachel Allen added a layer of boiled Potatoes & Goat's Cheese to the Quiche before adding the Spinach Filling. I wanted to try it out ever since.
Mother's Day Lunch is the day!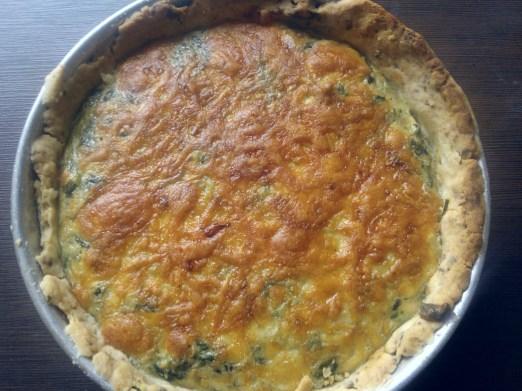 The above dishes were perfect for a loving mother-daughter duo! With a chilled glass of Pomegranate juice to start & warm Chocolate Chip Cookie Brownies to end, with loads of bonding girl talk & gossip, it was a lovely lunch indeed!
Happy Mother's Day Ma & to all the Moms out there