With The RHS Chelsea Flower Show 2012 fast approaching, its a good time to have a look at some of the designs and plans for this year. One of the show gardens that has always caught our attention in the past has been the gardens by Flemmings, an Australian nursery, who are showing at Chelsea again this year.
Their designs are often very bold and typically Aussie, with dramatic outdoor living spaces, cool looking pools, and fantastic tropical plantings.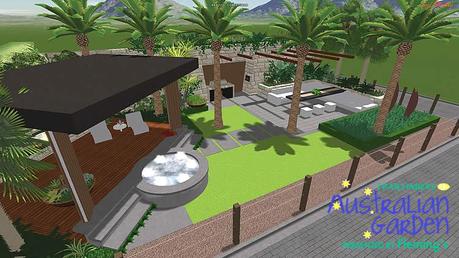 This years design looks to continue this theme of dramatic outdoor living space. Flemmings pride themselves on creating gardens that could actually be lived in (albeit the plantings would usually need to be modified for a permanent UK garden). With a dramatic outdoor room at its heart, towering palms and a spa pool the design looks like its going to be another fun design.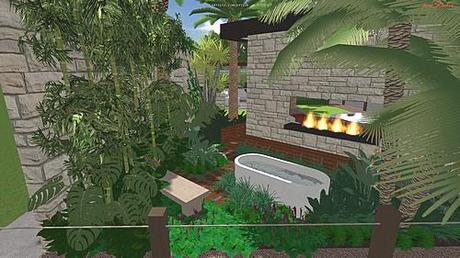 I love this idea, a secret outdoor bath, perhaps it works better as an idea in the warmth of a real Australian garden,
but maybe a hot tub in a similar location would work well as an alternative here. 
The planting list is equally interesting, and contains many plants we grow (some permanently outside, and others in pots). Plants such as Philodendron 'Xanadu' are too tender for permanent planting for us, but does well in a pot, coming into the kitchen for winter, but others such as Aspidistra elatior and Chamaerops humilis thrive in our garden.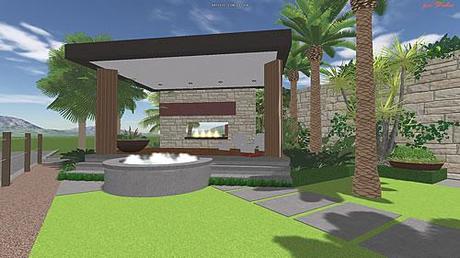 The 2012 Chelsea show page on Flemmings website shows a hint of the design, currently only visible in CAD form and remind me of the computer game "The Sims", but Chelsea is not that long away, so the actually finished product will soon be on display.
Gaz