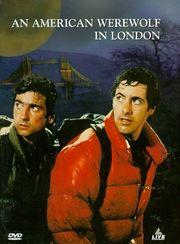 BBFC Rating: 18
Director: John Landis
Cast: David Naughton, Jenny Agutter and Joe Belcher
Its a full moon and that means a were wolf is on the prowl. Be sure to stick to the roads and keep your eyes peeled for a big hairy wolf like creature the size of two men. Scared yet? You should be!
Preachers Message: If you enjoyed this film or review, I would love to hear from you in the comments below and if you do enjoy the review please feel free to plus 1 by clicking the icon at the bottom of th post! Thanks for reading, ThePopCornPreacher.

Plot
American werewolf, follows the story of an american hiker. Who, whilst walking with his friend, is attacked by what he believes to be a wolf. The truth however turns out to be much worse. After much time in rehabilitation it soon becomes clear to our main character, David, that this foul creature has killed his friend and unfortunately left him not completely with out scars of his own.

Acting
The film succeeds in creating an instant connection with the two main characters. Their camaraderie is enjoyably heart warming, however it starts to fade through out the film. Although they did have great chemistry I would say the strongest 'actor' in the film was John Woodvine;  he plays the inquisitive Doctor and looks after David during his supposed recovery.  I think that the way he managed to bring such character  and enthusiasm to what was really just a supporting role was truly exciting and made him really stand out.
Another group of actors in this film that shone for me would be the Yorkshire village folk. They brought a great sense of gritty realism to a movie, that with out which, may have become a less intelligent slasher film. The cast includes a couple of famous character actors such as Rick Mayall, who some may know from the recent Bombadier ad's and also Brian Glover a wrestler come character actor who also starred in a film called KES, in the 70's.

Positive Points
From the eary establishing shots  in the beginning of the film, to the creepy point of view sequences portraying our werewolf stalking its prey, this film is a masterclass in successful cinematography. It creates tension where necessary and it feels as though the camera work has been lovingly considered with real emphasis on the intensity and raw aspects of human life.
There are only about three main tracks used in this film, however each one distinctly recognisable and incredibly catchy. I particularly found the way in which each song related to a different phase in the life cycle of a werewolf, to be a clever use of composition with in the film. After this post I may do a write up of how each song relates to its respective part in the film. So be sure to check back for that!
In my opinion,  one of the main reasons alot of horrors films from the 70's, 80's and earlier are truly terrifying is due to the realistic make up. American were wolf did not dissapoint. Davids transformation scene was something quite spectacular, it had me wincing in pain. I really believe that there is something incredibly haunting about the use of actual make up and prosthetics as oppose to computer generated imagery (CGI).

Points for Improvement
There isn't much that could have been improved with this epic horror monster flick. I would say however that this film could maybe do with further development in terms of narrative. I felt questions such as why he had become a werewolf and also why he was the only remaining werewolf in the world were slightly over looked.

Summary 
Its one of those films that will never age. Although the costumes and aesthetics may become more alien to us, the fear and raw animal instincts portrayed in this film will for ever be talked about and hopefully reused and developed in films of the future.
Other films you may be interested in:
I haven't seen this film,If its Higher production values your after with a similar killer story then this is probably another film to watch!