There is an email circulating about this well-written police report: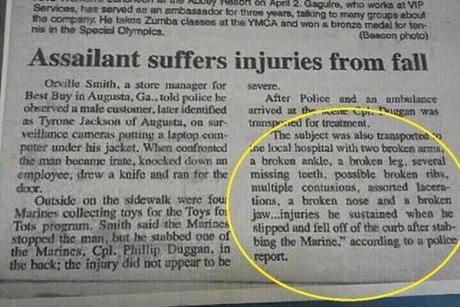 While this is very funny, alas, the email is not entirely true. The truth is that:
The thief-assailant's name is Tracey Attaway, not Tyrone Jackson. Here's his mugshot:

Tracey Attaway

The four Marines did tackle and subdue Attaway until police arrived, but the Marines did NOT beat him up. And so, there was no need for the police to falsify their report.
See:
I actually like the true story better than the email version because it shows that our Marines are truly men of good character and virtue. I'm so proud of how these four Marines conducted themselves!
H/t FOTM's Wild Bill Alaska
~Eowyn