TAKEAWAY: Amy Winehouse (14 September 1983 – 23 July 2011).  The mega talented lady who chose death over rehab.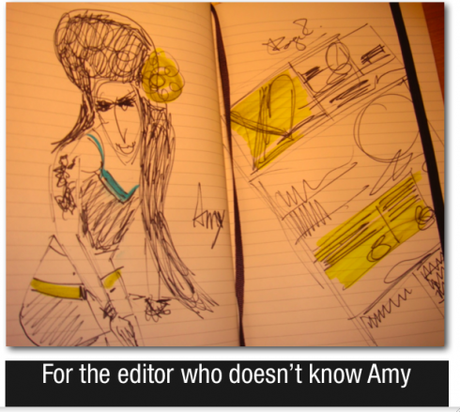 Here is a sketch I did of Amy Winehouse in 2008

I am not one likely to like the type of music that pop divas produce and are known for. I have my Pandora set to the likes of Ella Fitzgerald, Billie Holliday, Diana Krall, Bernadette Peters, Nancy Wilson and Sutton Foster, for example.  Of course, I will make an exception for Madonna, who would, from time to time, emerge with a song that appealed to me, especially when she turned to the movies (Dick Tracy) or the musical (Evita), but also her most recent video, 4 Minutes, with Justin Timberlake.
But, like Norah Jones, that Amy Winehouse had an impact on me.  Each of her songs tended to take a detour into jazzy territory, and if she had a white gardenia on her abundant black mane, I could almost hear Billie Holliday singing the blues.
But life was mostly about the blues for the young Amy, who was found dead, at 27, this weekend.
The world has lost a major talent, a voice that , under healthier lifestyle circumstances, would have enjoyed a long and incredibly amazing career. In fact, she had that even at 27, and, in spite of her constant bouts with alcohol and drug problems. Just this summer she had cancelled her European tour, and, according to someone who was at one of her concerts, she could barely stand up.
I have to admit that, in addition to her rich voice and her jazzy detours, I admired Amy's courage to create her own persona, which I was always happy to recreate in my Moleskin notebook.  And I remember my daughter Elena's reaction one day when I tried to hint that perhaps my granddaughter Sophia (Elena's daughter) should be Amy Winehouse for Halloween.  Sophia seemed slightly interested by the possibilities, but that invitation for mischief lasted only a few minutes.
While heaven——or wherever girls like Amy Winehouse go when they die——may gain the voice of voices to add to its choir, I know that here we will always remember her, her choice of music, her quiet rebellion, and, of course, that whole Amy Winehouse package: the made-for-caricature mountain of hair, the tattoos, the short retro dresses and those eyes of the cat woman hiding a zillion mysteries and inner demons.
Finally it was the demons who won, and who called her in.
Rest in peace, Amy.  In life you refused rehab, maybe in death you will give it a try.
(Rehab video by Amy Winehouse/YouTube)
A call to editors and designers
Please send me pdfs of your pages of tribute to Amy Winehouse to add to this blog. Thanks. Send directly to
An earlier blog post about Amy Winehouse:
My Moleskin: good for sketching that first idea or for explaining Amy Winehouse
http://garciamedia.com/blog/articles/my_moleskine_good_for_sketching_that_first_idea_or_for_explaining_amy_wineh
TheMarioBlog post #815