Not all cupcakes are made equal.
There are so many different recipes for cupcakes, and which ones you like all comes down to personal preference. These are dense, moist, and not too sweet. They are alsoreallyeasy to make. You can make them with one mixing bowl! I (unfortunately) can't take credit for this recipe. It is Amy Sedaris' recipe from her book I Like You: Hospitality From Under The Influence
This recipe is a good example of wording in recipes. Phrases such as 'mixing somewhat well', or 'beat until smooth' are extremely important. If it says to mix something only somewhat well, resist the temptation to keep mixing until the batter has no lumps and is completely smooth. It's important to leave lumps and air in batter when noted.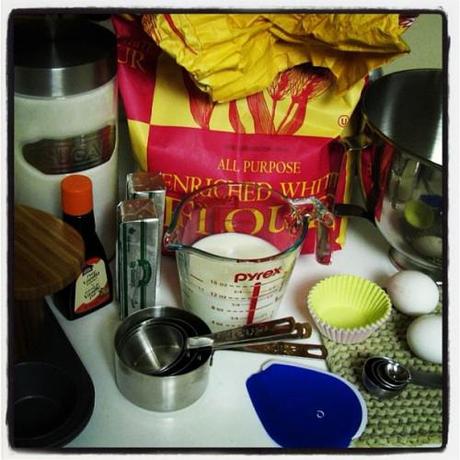 Ingredients:
1 ½ sticks of unsalted butter
1 ½ cups white sugar
2 eggs
2 tsp vanilla
2 ½ tsp baking powder
¼ tsp salt
2 ½ cups white flour
1 ¼ cups milk
Tools needed:
Mixing bowl, liquid measuring cup, measuring spoons, dry ingredients measuring cups, muffin tins, muffin tin liners, silicone bowl scraper.
Preheat oven to 375 F, and line the muffin tins with the muffin tin liners.
Put butter in mixing bowl and beat until somewhat smooth. I tend to leave the butter out overnight so it has time to get very soft. It makes it easier to mix. Stir in sugar and beat well.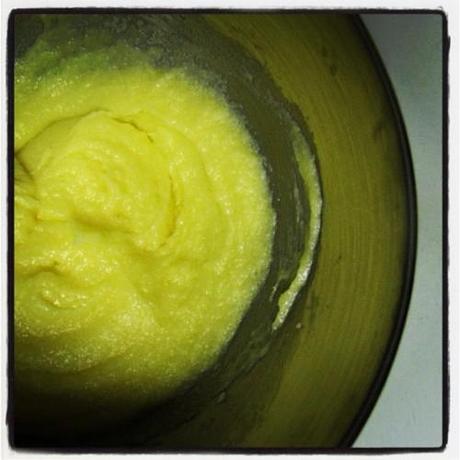 Add the 2 eggs. Mix well. There can be a few lumps at this point.
Add vanilla, baking powder, salt, flour, milk. Beat until it's smooth. There should be very little to no lumps in the batter.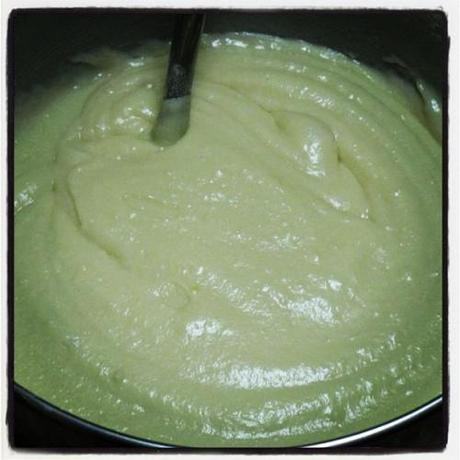 Pour into individual baking cups. Fill them to about 2/3 full. Cupcakes don't rise the way muffins do, but they aren't supposed to be as big as muffins. If you fill them to the top, they will end up as larger cupcakes, but the center won't cook as well. Try to keep them to 2/3 full.
Bake for 20 minutes or until golden brown.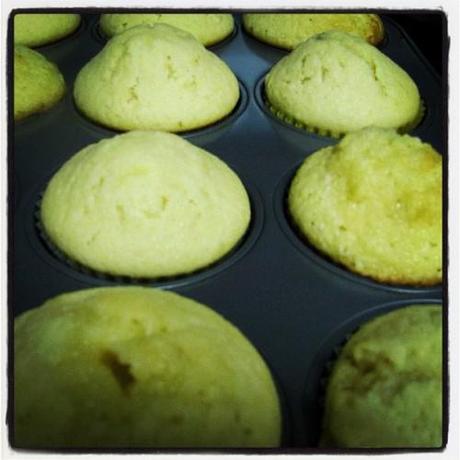 To finish, frost them. If you want a bit more sweetness, use a sugar frosting. If you're like me and don't want to overpower them with sweetness, then use a buttercream frosting. The picture below is a very simple vanilla buttercream that I am pretty sure is not a 'real' buttercream frosting, but it's not too sweet and it works for me.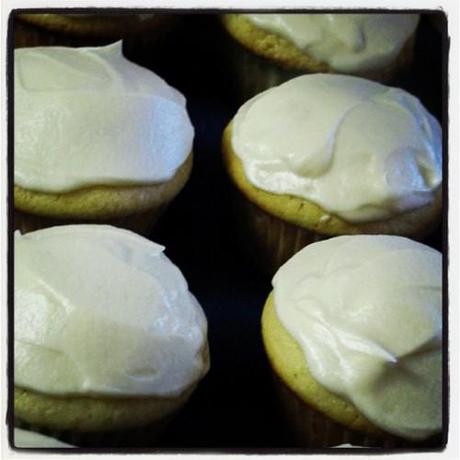 I will say these do not make a full 24. Even if you're making smaller cupcakes, they will only make 18.
These are a favorite of some of my friends, and my brother – who is not a big fan of sugary desserts.
Let me know what you think!
This post was written by Andrea of I Was Here Designs in Toronto, Canada.  Andrea loves design (of course!) but she also loves to bake, and we're thrilled to have her as our resident baker-blogger at Inspired Design Daily.