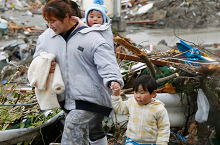 Across the globe, countries are reaching out to Japan, offering aid to the country following the devastating earthquake and subsequent tsunami that ravaged the region.
Amsterdam too is doing its part in fundraising with a spectacular benefit scheduled for 13 April: Netherlands Helps Japan.
Kicking off at the Amsterdam Arena, the benefit's highlight will be a face-off between the city's famous football club Ajax and the Japanese premier league, Shimizu S-Pulse.
Anyone who knows Amsterdam football knows it's nearly impossible to score a ticket to see Ajax play. Netherlands Helps Japan not only brings a special opportunity to see the team play, but also to help a country literally rebuilding from the ground up.
Tickets are on sale now for a mere five euros a person, with the possibility to upgrade to grandstand seats for 35 euros.
And the football match is only part of the event's star studded line-up. Expect a number of celebrity appearances, as well as a yet undisclosed musical act taking the stage to rock the arena.
The benefit is made possible by the Netherlands Red Cross Society, in addition to a number of local businesses and organisations.
"I feel very much encouraged by the initiative of the Netherlands Red Cross Society to organise a national fundraising day for the victims of the devastating disaster in Japan last month," says Takashi Koezuka, ambassador of Japan to the Netherlands.
On 11 March, a massive 9.0 magnitude earthquake rocked Japan, followed by a tremendous tsunami with waves over 37 metres high. Over 12,000 people were killed in the disaster, and more than 15,000 remain missing.
The Red Cross immediately mobilised its global staff and volunteers to respond in the aftermath. The have been providing first aid, medical care, food, water and shelter to the many affected. Psychological support is also a major part of the Red Cross's service, helping family to restore links and provide closure when possible.
As Red Cross continues their efforts, everyone is encouraged to lend a hand. With the Holland Helps Japan fundraiser, those who want to help can do so in exchange for a grand night out.