VN:F [1.9.20_1166]please wait...Rating: 0.0/
10
(0 votes cast)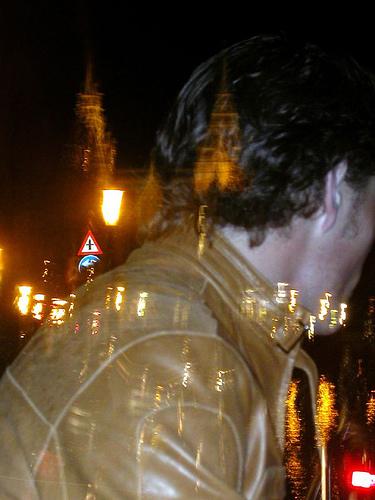 Image by AmitLev/Flickr
It is said of spirits that they cannot cross water. Try telling that to the ghosts of Amsterdam.
They're the lost souls of those burned as witches or hung in the Dam Square. The shades of those executed at the Nieuwmarkt. They roam through streets with names like Blood Street and Spook Alley (Bloedstraat en Spooksteeg). They lie in rest under the Amsterdam Dungeon, which was once a Medieval graveyard.
It is said that Anne Frank can sometimes be seen looking out the window of what had once been her room in the Secret Annex. Some say they've seen a boy and his family dressed in clothing from the 1900s appear in the bell tower on the 2nd of June each year, disappearing at the top of the tower stairs. And many have seen or felt the presence of Helena, Amsterdam's most famous ghost as she wanders De Zeedijk.
There are the Trip brothers, the most powerful arms dealers of the 17th century, who, rumor has it, continue to take up residency at the Trippenhuis.
For the ghost hunters and cryptic tale enthusiasts among us, the Amsterdam Ghost Walk offers a journey through haunted haunts of Amsterdam. In an hour-and-a-half, you'll learn all the frightening secrets of Amsterdam. And whether you're more skeptical than ever or can't sleep without the lights on for a few days, you'll leave your tour guide knowing more about the history of this wonderful city.
The tours aren't just limited to Halloween, but are given year round. They begin once it's dark out, so departure time will depend on the season. You'll meet your guide at the Tara Irish Pub on Rokin and, from there, head for the Dam Square.
Groups of 10 (minimum) to 20 (maximum) are needed for tours to run, and tours will be canceled if there is inclement weather or if there are not enough participants. If you're going by yourself or with a small group, you can join a tour on specific nights.
This month, you can join in on October 11, 21, 26, 27, or 31. Tickets are €12.50 per person. Pay for your ticket online and simply bring a printed copy of your receipt to show to the guide.
The tour is not recommended for children under ten.
© 2012, Amsterdam City Tours Blog. All rights reserved. On republishing any part of this post, you must provide a link back to this original post
VN:F [1.9.20_1166]please wait...Rating: 0.0/
10
(0 votes cast)VN:F [1.9.20_1166]