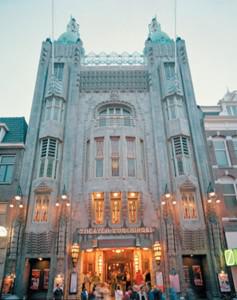 With two towering pillars and an elegantly detailed fascade, the Tuschinski building is an unmissable landmark in Amsterdam. For locals and passersby, it is hard to believe that such a gorgeous building is the city's most prized cinema.
But the theatre has been a palatial treat to all movie goers since its 1921 construction. And now, the cinema is paying homage to its history with special screenings of the timeless classics that have played on its screens through the decades.
Starting with Charlie Chaplin's The Kid on 26 February, a new film will be shown each month until October. The style and sophistication of the ages matches beautifully with the decadent interior of the theatre's Groot Zaal.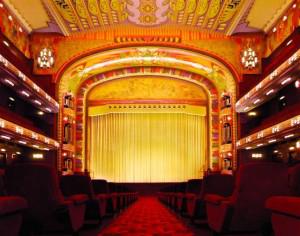 Gold detailing on the finely carved stage glows against the plush reds of the theatre's curtains and seats. Mezzanine seating and 'lovers' boxes adds to the romance of the art deco design. But the beauty extends far beyond the grand hall.
The cinema was built by Abraham Tuschinski, a Polish Jew turned theatre magnate. Immigrating to Holland in 1904, he had made a mighty name for himself in Rotterdam before testing his talents in the capital.
With theatre Tuschinski  he set out to create something special that bore his unique stamp in taste and design.
"Grand and as pretty as a temple or palace," he called his monument. "A theatre that is unparalleled in Europe and even the spoiled Amsterdammers will stand in admiration."
Using the best design, materials and talents of twentieth century Holland, Tuschinski funneled nearly 4 million Gilders (approx. 2 million Euros) into the cinema's creation.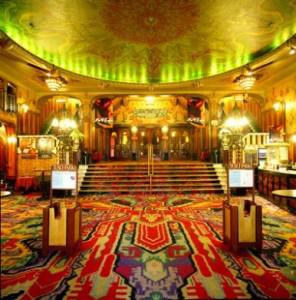 The theatre was completed on 28 October 1921, marking the high point of Tuschinski's success. In fact, during the years between the two World Wars, he was unrivaled in the cinema business. But the dawn of World War II saw his success fade. He fell into bankruptcy by 1940 and was forced to give up the theatre. By 1942, his luck had all but run out and he met a sad end in Auschwitz in 1942.
As awe inspiring today as it was 90 years ago, theatre Tuschinski is a legacy to its founder. Fully restored to its original beauty, it is an everlasting gift to all of the city's theatre lovers.