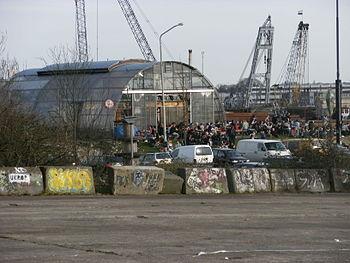 English: Noorderlicht; Café Restaurant at NDSM wharf. (Photo credit: Wikipedia)
Skyscanner has named Amsterdam-Noord one of the most hipster neighbourhoods in the world. The travel search site ranked the Amsterdam neighbourhood number 7 on the list. That puts it smack-dab between London's Dalston (UK) and Melbourne's Fitzroy (Australia).
As the name suggests, Amsterdam-Noord is the northern part of the city of Amsterdam. And since there's a large body of water (the IJ River) separating it from the city center, it's easy to forget that it's part of the Dutch capital at all.
Once you arrive at Amsterdam's central station, t
ake note of where everyone else is going... and then head in the opposite direction. Outside, behind the station, you'll catch the (free) ferry to the NDSM Wharf on the other side of the IJ, where Amsterdam-Noord awaits.
So what exactly makes this off-the-beaten-path neighbourhood hipster?
According to Skyscanner, it's the area's creative use of the former shipyard. The cluster of abandoned warehouses there have been turned into restaurants and headquarters for creative start-ups. Others serve as festival and event spaces. One of Amsterdam-Noord's major attractions is the monthly IJ-Hallen - the biggest flea market in Europe - which takes place in the largest of these warehouses.
You'll also find the Amstel Botel (a hotel on a boat), the EYE Film Institute, Museum Amsterdam Noord, the Noorderpark, and the Sculpture Garden. Or tour the historic, traditional Dutch villages of Nieuwendam, Ransdorp, or Zunderdorp for a bit of a break from the more cutting-edge vibe of the NDSM Wharf.
Last year, warehouse-turned-restaurant Noorderlicht Cafe was highlighted on USA Today Travel's 10Best Amsterdam Nightlife list. USA Today Travel noted that the "NDSM-werf is known for its creativity" and Skyscanner remarked on the steadily growing "coolness" factor in Amsterdam-Noord in general.
While it may not be at top of every tourist's list, it has become increasingly more popular over the years. It's gone from ghost town to a hip place to see and be seen.
Whether or not you buy into top-ranked [insert person/place/thing here] lists, Amsterdam-Noord is definitely worth checking out for a completely different view of Amsterdam.
If you want to check out more of Amsterdam's unique neighbourhoods, here's a brief overview of 5 of the most popular.

© 2014, Amsterdam City Tours Blog. All rights reserved.
On republishing any part of this post, you must provide a link back to this original post